Experts from governments and the public and private sectors across Latin America will gather at this year's Latin American and Caribbean Carbon Forum (LACCF), which will take place from 9 to 11 September in Santiago de Chile, Chile's capital and largest city. The objective of the meeting is to discuss the region's climate ambition and its contribution towards a new, universal climate change agreement that will be reached in Paris at the end of the year.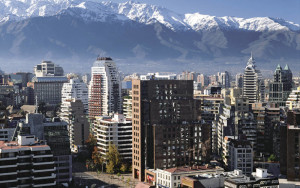 This year's LACCF comes only three months before the Paris climate conference and is therefore an important opportunity for stakeholders in the region to exchange ideas, experiences and best practices on climate action.
Experts will also discuss ways to move towards carbon neutral economies. The LACCF will provide a collaborative platform at a time when Parties must submit their climate action plans (known as Intended Nationally Determined Contributions – INDCs) and explore options to increase their INDC's ambition.
Topics of particular importance will include carbon pricing and markets, flexible mechanisms such as the Clean Development Mechanism (CDM), Monitoring, Reporting and Verification (MRV) tools, Nationally Appropriate Mitigation Actions (NAMAs), climate finance, low emission development policies and low carbon technology solutions.
The LACCF 2015 will assist the LAC region in understanding global markets and accessing green investment through a number of sessions, side-events and networking opportunities, building on the success of last year's forum in Bogotá, Colombia. Participants at the forum will have the opportunity to liaise with senior UNFCCC officials and with representatives of the Latin American and the Carribean Regional Collaboration centres.
The forum is organised by the United Nations Framework Convention on Climate Change (UNFCCC), the United Nations Environment Programme (UNEP) along with the UNEP-DTU Partnership, the Latin American Energy Organisation (Olade), the International Emissions Trading Association (IETA), the Inter-American Development Bank (IDB), the United Nations Development
Programme (UNDP), the World Bank Group (WBG), and the Development Bank of Latin America (CAF).