Community members of Edondon in Obubra local government area of Cross River State have applauded Wanel-Aedon Development Association for empowering 57 women in sustainable livelihood.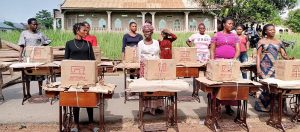 In addition, the community-based feminist organisation was also applauded for the construction of an eight-room lodge in Edondon to cater for the accommodation needs of tourists either on transit or visitation to nearby forest communities.
Speaking at the organisation's fifth annual economic empowerment programme for the rural women, some members of the community said the initiative was the first undertaking by a community-based women organisation in the state.
While expressing gratitude on behalf of the community, Woman Leader of Edondon, Mrs. Mary Oyi, said the initiative was one of a kind since her existence.
Oyi who happened to be one of the beneficiaries said, "Wanel-Aedon development empowered me with garri fryer. This will go a long way to help me and my family's needs.
"Edondon women are lucky to have this organisation because it has been helping women come out of poverty, not only Edondon women, other women from other communities are also benefiting and I am proud to be from the community that created this kind of platform for women from neighbouring communities to benefit. On behalf of the community, and women, I say a big thank you to the people behind this empowerment," the woman leader stated.
Also commending the association for the feat, Mr. Felix Egbe, who spoke on behalf of the Village Chief, said: "Good things don't come easy. When the Technical Director of  Wanel-Aedon Development Association, Chief Edwin Ogar, started this movement towards developing women of this community and beyond, many leaders and some person's thought he was doing this for selfish reasons but most of us who are associated with anything development, knew he was heading to something good that will benefit the community and definitely, he has changed the status quo of women in this community as far as I am concerned.
"My message to the beneficiaries is that they put those live sustainers into proper use so that they will have multiple effects. They should put it into good use. I know most women are fending for their families and if they put all these into proper use, it will go a long way in training their children and other needs."
According to the Secretary General of the association, Mrs. Joy Ogar, Waneledon is a community-based feminist organisation in Edondon community which started in 2003 by few women who came together with a common goal to, among other things, address women's human right abuses, illiteracy, poor governance, female genital mutilation, environmental justices, and social inclusion.
She disclosed that to date, the organisation, which has gained local recognition and international partnership, has been able to economically empower nothing less than 211 locals including farmers, beginning from the first phase of her empowerment scheme in 2007, to the fifth in 2023.
Ogar explained that some of the beneficiaries were not only trained in ICT, tailoring, agri-businesses among others, but also given empowerment equipment including sowing machines.
"In 2007, Waneledon commenced an empowerment scheme with 24 beneficiaries trained in computer literacy, tailoring and some given sewing machines. Today, we are here for the fifth phase of the empowerment scheme for 2023. We have 57 beneficiaries in various items: hair dressing equipment, sewing machines, cassava processing facilities, trading, pigs and goat farming," Ogar's statement at the event further reads in part.
Ogar hinted that the initiative of constructing an accommodation facility christened "Waneledon Lodge" in Edondon community was not only the first of its kind among other community groups, but a replica of what is obtainable at the state level, and elsewhere.
She added that the project was conceived in order to create wealth for the locals, especially the women as well as diversify the economy.
"The eight-room facility has beds, tables, toilets, borehole and is powered by solar inverter, thus supplying light and energy 24/7," Ogar said.
He assured that the association would not relent in its efforts to better the lives of women in the nine communities currently working with which are Ekuri Eyeyeng, Etara, Okokori, Old Ekuri, New Ekuri, Iko Esai, Owai and Ifumkpa communities but resolved to expand her frontiers with the integration of Ochon, Isabang, Onyen-Okpon, Odonget, among other communities into her programmes.
Beaming with smiles and satisfaction during the event, the brain behind the project and development of most forest communities in the state, Ogar said Wanel-Aedon Development Association became a dream come true in 2003 when few women from the community approached him for the development of women in the community.
He added: "It has taken us so many years but with step-by-step approach until today, I have seen improved successes in this organisation which makes me happy because by seeing the turnout and number of women empowered by this great women organisation, shows we have recorded tremendous improvement.
"This is not going to be the end; this is just the beginning as more opportunities are enfolding. I am glad to be part of the beginning of this great success to empower women of this community by improving their livelihood. I assure you that in the next three to four years, there is going to be another bigger intervention, it will be targeted at Women of Edondon community."
By Stina Ezin