It was a terrible day as Olasumbo Apanpa's apartment at the Lekky County Homes Estate in Ikota, on the Lekki-Epe Expressway, Lagos was ravaged by flood. Sequel to the devastating flooding and fear of what the incoming rainy season has in stock by staying in her apartment, she has no option than to relocate to a different apartment – for the safety of her family prior to the incoming rainy season.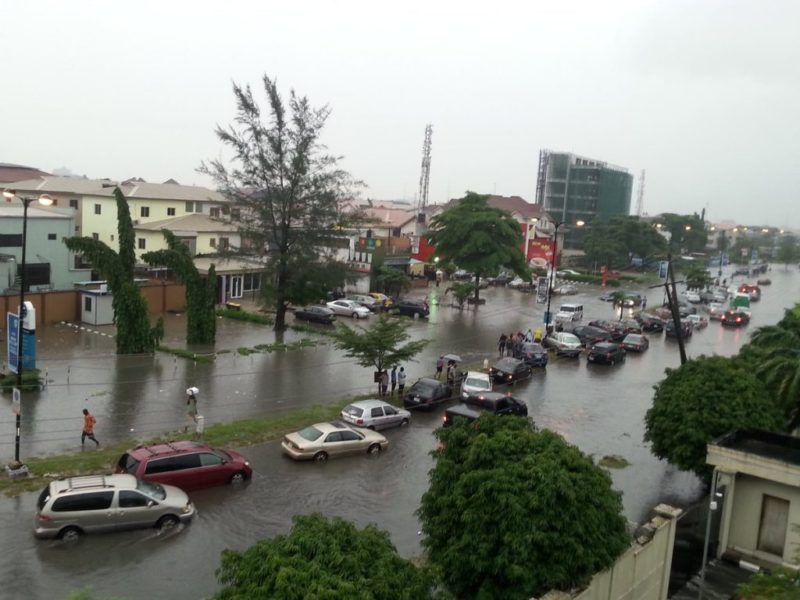 Properties worth billions of naira were destroyed in the epic flooding of July 8, 2017 – which engulfed Lagos, Nigeria. Socio-economic activities were at standstill, many people unexpectedly got mired in massive debts, and millions of residents dispossessed of their hard-earned valuables and forcefully ejected from their abodes abruptly; leaving the trail of severe ecological damage. Six months after, the victims are still reeling in the scars and finding it difficult to wriggle out of the trauma – as the ugly incidence flashes in their thoughts.
"On that fateful Saturday morning, I was still snuggling up in bed, because it had been raining since morning, till my son came into my room. He said he got a WhatsApp message on the estate residents' platform asking people to pray for the rain to stop, that it was serious!  I got up then to go downstairs only to see our sitting room flooded to almost knee deep.
"We looked out from our balcony and saw water gushing out from a wall that had been there to demarcate the estate. The force of the water broke the wall and water was just flowing into houses and streets in torrents. The whole place was looking like a moving stream," Apanpa reveals in an interview.
With an estimated population of 21 million and 40% landmass of water bodies, Lagos is unarguably the most populous city and Nigeria's commercial capital. But the bustling city is vulnerable to flooding, sea level rise, high water table, ocean surges and inundation due to its strategic location and low-lying terrain. Despite that, thousands of migrants who are earnestly in search of greener pastures within and outside Nigeria's shores troop in on a daily basis – constituting stress on the few facilities – leading to extensive pressure on the Lagos' fragile  ecosystem.
Amidst the growing population and the skyrocketed cost of acquiring an apartment, the low-income migrants who are desperate to cope with the standard of living and hit the ground running are left with the option of pitching their tents in informal settlements – which are devoid of basic amenities. The over 65% inhabitants are perpetually vulnerable to extensive flooding, ocean surges, poor sanitation, and malaria and cholera outbreak. Such shanties are often on low-lying coastal areas; among which are communities such as Makoko, Ilaje-Bariga, Iwaya, and the recently-demolished Otodo Gbame.
In contrast, the rich have a penchant for land reclamation along the ocean and river banks – prompting queries and suspicion on the genuinety of Environmental Impact Assessment purportedly carried out prior to such land mark projects.
The 9 Km2 landmass of the ongoing Eko Atlantic City project – requiring about 95 million m3 of sand dredged from the sea bed typifies such an affluent and grandiose reclamation project — with an estimated cost of $6 billion. It is expected to accommodate about 350,000 people, with the price of a two-bedroom apartment selling in the region of $896,750.
Climate scientists are worried that continuous and unregulated reclamation could exacerbate flooding, the devastation of marine habitat culminating ecological imbalance. And quite worrisome, the poorer communities are at the receiving end of coastal erosion, extensive flooding and tidal waves generated by reclamation – with untoward consequences.
A source close to Total Exploration & Production Nigeria Limited, revealed that the firm was badly hit as properties worth over N35 million got damaged. According to him, the entire ground floor of the firm located at Victoria Island was submerged such that the underground draining pipes were unable to suck out the water. There are indications that the firm is yet to recover from the debt incurred.
"This is the first time I'm experiencing this kind of flooding in my adult life and I know of a family who was contacted and relocated that same day," the source adds.
The unprecedented submergence along Ahmadu Bello Way on Victoria Island is said to be just a tip of the iceberg of the looming danger. On the heels of the devastating occurrence, palpable fear is evident as Lagos residents are apprehensive of what the incoming rainy season has in stock for them – owing to the failed promises of the concerned bodies.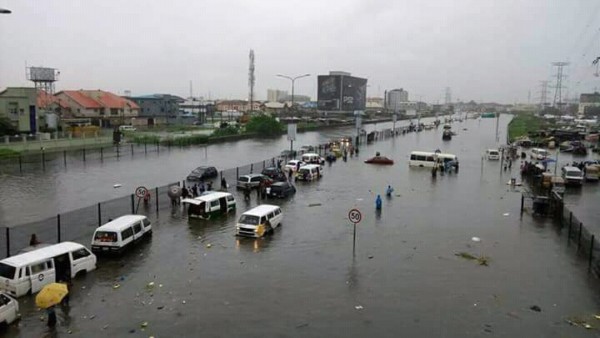 No doubt, flood is a natural and global source of concern – in which Lagos isn't exempted from its perennial occurrence. According to worldweather online, the average rainfall of 281.3 mm in July was the highest rainfall volume in 2017 – with duration of 30 days. Not surprising the extensive flooding.
As part of efforts to rid the state of flooding, the government says it is committed to desilting by clearing jerry cans, sacks, polythene bags, tires, blocks, silts among others that block the free-flow of storm water.
"Ikorodu Road, Mile12, Kosofe, Ketu, Ojota, Anothy, Maryland, Ilupeju, Obanikoro, Palmgrove, Onipanu, Fadeyi, Jibowu, Moshalashi, Ojuelegba, Stadium, Alaka and Iponri.Others include CMS, Marina, TBS, Kudirat Abiola Way, Awolowo Road, Opebi-Allen Road, Apapa Wharf Road and Agege," are being desilted as revealed by Managing Director of Drain Ducks, Mr. Akeem Apatira.
The Lagos government is indeed commended for its adaptation and mitigation moves but, quite unfortunate that the ambitious and commendable Lagos State Climate Change Adaptation Strategy (LAS- CCAS) that briefly outlinesd drainage appears not to have given a full account of a clear and comprehensive roadmap in addressing the seemingly defective drainage pattern the state, the indiscriminate dredging by sand miners, and relocation plans. And nothing concrete was said of uncoordinated settlements lying across flood plains and the down streams of Oyan dam.
"If we have learnt anything in the ongoing flooding of some parts of the state, it is that there is an immediate, even urgent need for us to embark upon a review and re-engineering of our canals and drainage systems," Governor Akinwunmi Ambode said in dousing the tension subsequently after the flooding.
Nothing can stop accumulation of excessive puddles not receding some days after a long stretch of heavy downpour if well-structured and efficient drainage systems together with a strictly coordinated infrastructural layout are not incorporated into the adaptation strategy. Alleviating the seasonal flooding would be in jeopardy, and thereby threading the path of a mirage.
Six months after the promise, most of the inhabitants are still sceptical of government's sincerity in tackling the defying flooding. The citizens have a role to play too in stopping refuse clogging the water ways and obstruct free flow of water.
Apart from the shrinking Lake Chad basin which is capable of triggering unprecedented humanitarian crisis in Northeast Nigeria and beyond, perennial flooding in Lagos is a climate change phenomenon in urgent need of proactive measures towards forestalling inundation that is capable of wreaking havoc on Lagos' ecosystem.
By Odewale Abayomi Joseph (ICFJ Climate Fellow, climate writer and advocate; @ODEWALEAbayomi)