Oxfam Nigeria, with the Human and Environment Development Agenda (HEDA), has launched the food and climate justice campaign with the aim of changing public attitude towards agriculture and building a movement to increase food sufficiency for local consumption and export.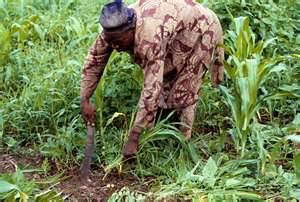 An official of the Nigeria Conservation Foundation (NCF), Mrs. Funmi Tsewinor, said the increasing global impact of climate change affects weather pattern thereby resulting in delayed rain, with adverse effect on the farming calendar.
"Most farming activities in Nigeria are rain-fed due to lack of proper irrigation and thus causing shifting cultivation. The small scale farmer bears the burden of farming with little or no assistance. It is time for concrete steps aimed at meeting the Maputo Declaration which states that 10% of annual national budget should be allocated for agriculture. This will help to reduce the statistics in Nigeria, which states that one in eight persons go to bed hungry," she stated.
Tsewinor noted that women are key players in the food chain from farming to harvesting and processing but suffer the most injustice in accessing land for agriculture.
"The face of poverty is a woman," she added.
Small scale farmers from different parts of Lagos involved in fish and rice farming, poultry and piggery production and vegetable cultivation, amongst others, lamented the incessant land eviction by thugs known as Omo-oni ile and also political farmers.
A rice farmer in Badagry, Mr. Segun Atho, explained that people that are not into any farming activity pose as farmers, thereby benefitting from government assistance to real farmers.
According to him, this group of people who are termed "political farmers" are sometimes backed by politicians who inform their people to register co-operatives which they use in accessing funds and agricultural inputs.
Atho urged government to verify the status of farmers before disbursing funds and agricultural input so that the real farmers will benefit from government support.
Another farmer, Mr. Lawal Sulaiman, explained that when he was evicted from his farmland in Ibeju-Lekki which he had cultivated for eight years, he relocated to Ijebu-ode in Ogun State.
"This has affected our cost of operations. We need government to protect lands meant for agriculture so as not to be converted to commercial lands for property development. Farmers in Lagos are increasingly been evicted by area boys and Omo-onile," he lamented.
Director of Rural Agriculture from the Lagos state Ministry of Rural Development, Mr. Habeeb Giwa, however lamented the dearth of youth participation in agriculture in the state.
"The state government has farm settlements in the outskirts of Epe and other areas but most youths don't want to leave the city centre to take up agriculture. This is so sad. Youth unemployment can be reduced if our youths join the movement to participate in agriculture. The farmers we have are growing old and need the younger generation to take over from them."
The winner of the Female Food Hero Award South-west Zone, Mrs. Chinasa Asonye, called for more government support in the area of irrigation to boost agriculture and all-year-round farming.
She said: "With proper irrigation farmers will have increased yield. Also more youths need to engage in the agriculture because they are the ones that will take it to the next level.
"I am young and a proud farmer. I also want more women and youth participation in Agriculture."
Executive Secretary of HEDA, Mr. Sulaiman Arigbabu, said programmes like the launch of the food and climate justice campaign provide a platform for engagement between farmers and government agencies.
This, he noted, would enable farmers make their challenges known and solicit for more support.
 By Tina Armstrong-Ogbonna