The World Bank Group (WBG), Food and Agriculture Organisation of the United Nations (FAO), International Monetary Fund (IMF), World Trade Organisation (WTO) and World Food Programme (WFP) have called for continued urgent action to address the global food security crisis.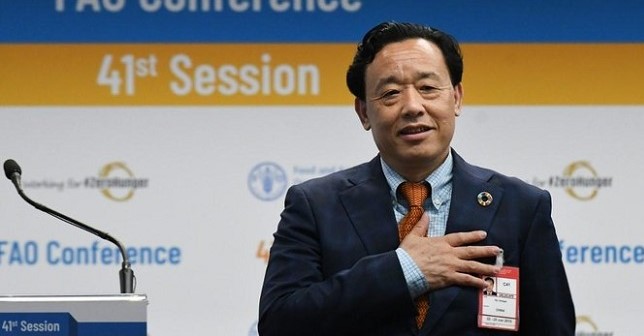 The call is contained in a joint statement issued by the Director-General, FAO, Qu Dongyu; Managing Director, IMF, Kristalina Georgieva; President, WBG, David Malpass; Executive Director, WFP, David Beasley; and Director-General, WTO, Dr Ngozi Okonjo-Iweala.
The executives said that, globally, poverty and food insecurity were both on the rise after decades of development gains.
"Supply chain disruptions, climate change, the COVID-19 pandemic, financial tightening, through rising interest rates and the war in Ukraine, have caused an unprecedented shock to the global food system,'' they said.
They said food inflation remained high in the world, with dozens of countries experiencing double-digit inflation.
"According to WFP, 349 million people across 79 countries, are acutely facing food insecurity. The prevalence of undernourishment is also on the rise, following three years of deterioration.
"This situation is expected to worsen, with global food supplies projected to drop to a three-year low in 2022/2023,'' they said.
The executives said the need was especially dire in 24 countries, out of which 16 were in Africa, that FAO and WFP had identified as hunger hotspots.
They said fertiliser affordability as defined by the ratio between food prices and fertiliser prices, was also the lowest since the 2007/2008 food crisis.
The executives said this was leading to lower food production and impacting smallholder farmers the hardest, worsening the already high local food prices.
"For example, the reduction in 2022 of the production of rice, for which Africa is the largest importer in the world, coupled with prospects of lower stocks, is of grave concern,'' the executives said.
They said in response to the inflation of food, fuel and fertiliser prices, countries had spent more than $710 billion on social protection measures.
The executives said the figure covered one billion people, including approximately $380 billion for subsidies.
"However, only $4.3 billion has been spent in low-income countries for social protection measures, compared to $507.6 billion in high-income countries,'' they said.
The executives said to prevent a worsening food and nutrition security crisis; further urgent actions were required in three key areas.
"First urgent action is to rescue hunger hotspots, the second action is to facilitate trade, improve the functioning of markets, and enhance the role of the private sector.
"The third urgent action is to reform and repurpose harmful subsidies with careful targeting and efficiency,'' they said.
The executives also said countries should balance short-term urgent interventions with longer-term resilience efforts as they respond to the crisis.
They said action was already underway to address underlying structural challenges in social protection and in the food and fertiliser markets.
The executives, however, said concerted action across these three key areas was needed to prevent a prolonged crisis.
"We are committed to working jointly and with impact to support the most vulnerable.
"We call on governments and donors to support country-level efforts to address the needs in hotspots, share information and strengthen crisis preparedness.
"The WFP and FAO need funds urgently to serve the most vulnerable immediately.
"We repeat our urgent call for countries to avoid policies such as export restrictions, which can impede access to food for poor consumers in low-income food-importing countries.
"We call on countries to support trade facilitation measures, to improve availability of food and fertiliser and support trade finance initiatives in a transparent and in a non-discriminatory manner,'' they said.
The executives said countries should reform and repurpose general universal subsidies towards temporary, better-targeted programmes for global food security and sustainable food systems.
They went on to offer their deepest sympathy to the people of Turkey and the neighbouring Syrian Arab Republic who suffered recent earthquakes.
"Our organisations are closely monitoring the situation, assessing the magnitude of the disaster, and working to mobilise necessary support in accordance with each organisation's mandates and procedures,'' the executives said.
By Okeoghene Akubuike