Hurricane Irma roared into the Caribbean with record force on Wednesday, September 6 2017, its 185-mph winds shaking homes and flooding buildings on a chain of small islands along a path toward Puerto Rico, Cuba and Hispaniola and a possible direct hit on densely populated South Florida.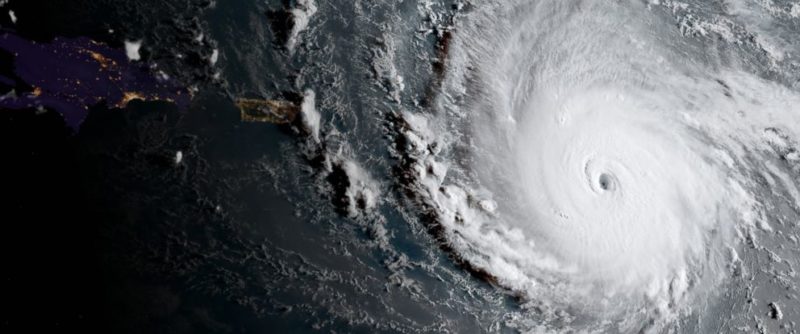 The strongest Atlantic Ocean hurricane ever recorded passed almost directly over the island of Barbuda, causing widespread flooding and downing trees. France sent emergency food and water rations to the French islands of Saint Martin and Saint Barthelemy, where Irma ripped off roofs and knocked out all electricity.
The regional authority for Guadeloupe and neighboring islands said the fire station in Saint Barthelemy was flooded by more than 3 feet (1 metre) of water and no rescue vehicles could move. The government headquarters on Saint Martin was partially destroyed.
There were no immediate reports of casualties but the minister for French overseas territories, Annick Girardin, said: "We have a lot to fear for a certain number of our compatriots who unfortunately didn't want to listen to the protection measures and go to more secure sites … We're preparing for the worst."
Antigua and Barbuda Prime Minister, Gaston Browne, said the twin-island nation appears to have weathered its brush with Hurricane Irma with no deaths, though he noted that the government had only done a preliminary assessment of Barbuda. There were widespread reports of property damage but he says the public and government had prepared well for the storm.
"We in Antigua have weathered the most powerful hurricane ever to storm its way through the Caribbean," the prime minister said. "And we have done so with stunning results."
Hurricane Irma had maximum winds of 185 mph (295 km/h) as of 11 a.m. on Wednesday and was producing dangerous storm surge and heavy rain. The centre of the storm was about 65 miles (110 kilometres) east-southeast of St. Thomas in the U.S. Virgin Islands and about 140 miles (225 kilometres) east of San Juan, Puerto Rico. It was heading west-northwest at 16 mph (26 kph).
As the eye of Hurricane Irma passed over Barbuda around 2 a.m., phone lines went down under heavy rain and howling winds that sent debris flying as people huddled in their homes or government shelters.
The storm ripped the roof off the island's police station, forcing officers to seek refuge in the fire station and at the community center that served as an official shelter. The Category 5 storm also knocked out communication between islands.
The U.S. National Hurricane Center said Irma's winds would fluctuate but the storm would likely remain at Category 4 or 5 strength for the next day or two. The most dangerous winds, usually nearest to the eye, were forecast to pass near the northern Virgin Islands and near or just north of Puerto Rico on Wednesday.
President Donald Trump declared emergencies in Florida, Puerto Rico and the U.S. Virgin Islands, and authorities in the Bahamas said they would evacuate six southern islands.
Warm water is fuel for hurricanes and Irma was moving over water that was 1.8 degrees (1 degree Celsius) warmer than normal. The 79 degree (26 Celsius) water that hurricanes need went about 250 feet (80 meters) deep, said Jeff Masters, meteorology director of the private forecasting service Weather Underground.
Florida Gov. Rick Scott on Monday declared a state of emergency for every county to ensure that local governments have enough "time, resources and flexibility to get prepared for this dangerous storm," according to a statement from his office.
Mandatory evacuation orders have been ordered for Monroe County, which includes the Florida Keys, beginning on Wednesday, but cars were already streaming out of the region on Tuesday evening. Officials also anticipate evacuation orders for low-lying portions of Miami-Dade County, including Miami Beach, by late Wednesday or early Thursday.
An extremely powerful tropical cyclone,Hurricane Irma is said to be the strongest Atlantic hurricane since Wilma of 2005 in terms of maximum sustained winds and the most intense in terms of pressure since Dean in 2007. Irma is also the first Category 5 hurricane to impact the northern Leeward Islands on record.
Courtesy: Associated Press (AP)