About 60 houses were submerged by flood in Kaduna communities as a result of heavy rainfall which occurred as a result of long hours of heavy downpour that started on Friday morning till evening of that day.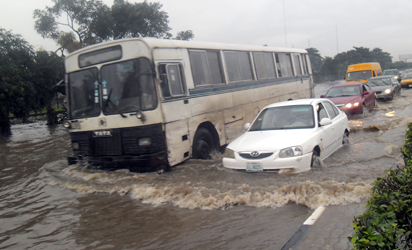 The flood affected houses, schools and shops within the state metropolis including Hayin Dan Mani, Hayin Bello new extension, Abubakar Kigo Road new extension, Barnawa, Narayi, Romi, Kinkino and Kurmin Mashi, among others.
The flood occurred weeks after the Nigeria Hydrological Services Agency (NIHSA) warned that floods would likely occur in eight major rivers and their tributaries in the course of 2016.
It was reported that the Director-General of the agency, Dr Moses Beckley, gave the warning at the presentation of the 2016 Annual Flood Outlook (AFO) in Abuja, Nigeria's capital, in July 2016.
Beckley listed the rivers to include Niger, Benue, Sokoto-Rima, Anambra-Imo, Cross River, Niger Delta, Komadougu-Yobe, Ogun-Osun and several other sub-basins of the country.
Similarly, thousands of Lagos and Ogun residents were displaced and property estimated at billions of naira destroyed after downpours on Saturday and Sunday left many streets and homes flooded. Many Christians could not hold their Sunday service as their churches were flooded.
Worst hit in Lagos were residents of Oworonshoki, Bariga, Ketu, Ikorodu, Lekki areas.
Indeed, about 200 residents were displaced after floods took over about 50 houses on Unity Estate in the Ita Oluwo area of Ogun State.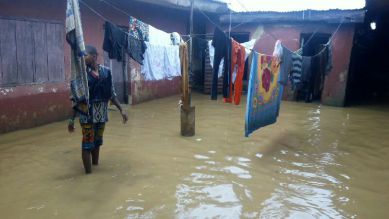 It was gathered that the Kaduna flood forced hundreds of people out of their homes as a result of the flood while the roads too were covered by water making it difficult for residents to evacuate their properties.
It was observed that most of the affected houses are located near the bank of River Kaduna and those built without drainage or with blocked drainages.
Similarly, National Emergency Management Agency (NEMA) weeks ago raised alarm that eight LGs in the state were likely to experience flood; thereby warning residents close to river banks and flood prone areas to vacate for their safety.
Kaduna State Emergency Management SEMA already sent their staff to assess the extent of damage caused by the flood.
The Executive Secretary of SEMA, Ezekiel Baba Karik, said so far about 60 houses were affected by the flood.
"The flood was mild below what we expected based on NIMET prediction. Few houses within Kaduna metropolis and Kafanchan were affected. We are still assessing the extent of damage but the houses will not be more than 60 because the water came and passed. Water will always find its way," he said.
According to him, the flood was caused by human induced factors including lack of proper drainage and blocked drainages among others. "Most of the affected victims are already taking their properties back to their houses because the water level has gone down," he said.
By Mohammad Ibrahim