Over 130 people have lost their lives following floods and landslides caused by heavy rainfall in northern, southern and western parts of Rwanda.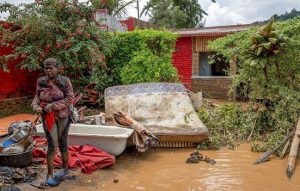 Six reportedly died in Uganda from mudslides.
According to authorities, the heavy rains which started on Tuesday, May 2, 2023, affected nine districts, with the most affected being Rubavu district, where at least 1000 homes were destroyed.
As the government of Rwanda and humanitarian agencies continue with rescue operations, higher than average rainfall is expected in parts of the country, for the first 10 days of May, according to a weather forecast by the Rwanda Meteorology Agency.
Civil society group, 350Africa.org, has expressed deep concern for those affected by the disaster and underscored the need for urgent climate action to support communities on the frontlines of the climate crisis, to build resilience and reduce vulnerability to the worsening climate impacts.
Landry Ninteretse, Regional Director, 350Africa.org said: "We extend our deepest sympathies to our comrades in Rwanda following the tragic loss of life and destruction of property caused by the floods and landslides in parts of the country. More intense and frequent weather events such as these and others across the continent, point to a worsening climate crisis, which calls for urgent action. Disasters such as these are further evidence of the injustice suffered by the nations that contribute least to the climate crisis, as they bear the brunt of the crisis.
"This situation highlights the urgent need to support communities at the frontlines of the climate crisis to adapt to climate impacts, loss and damage finance to compensate communities for the losses resulting from climate impacts they cannot adapt to, and a strong resolve to phase out fossil fuels, which are the primary driver of climate change. A just transition to renewable energy is critical to secure a liveable future for our communities."
"Our main priority now is to reach every house that has been damaged to ensure we can rescue any person who may be trapped," said François Habitegeko, governor of Rwanda's Western Province.
Some people were rescued and taken to hospital, he added.
Habitegeko said the River Sebeya had burst its banks.
"The soil was already soaked from the previous days of rain, which caused landslides that closed roads," he said.
In a statement, President Paul Kagame said his government was helping affected people, including with temporary relocations.
In a mountainous area of neighbouring Uganda near the border with Rwanda, six people died overnight into Wednesday in the southwestern Kisoro district, the Uganda Red Cross said.
Five were from one family, and emergency workers had begun excavations to retrieve the bodies, it added in a statement.
Rwanda and Uganda have been experiencing heavy and sustained rains since late March. Landslides have been reported in other elevated areas of Uganda, like Kasese near the Rwenzori mountains, where deluges and floods destroyed homes and displaced hundreds.