Seven communities in five local government areas of Adamawa were submerged as flood waters from Kiri Dam in Guyuk Local Government Area, swept through the state.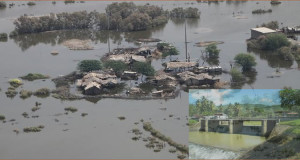 Alhaji Haruna Furo, the Executive Secretary, Adamawa State Emergency Management Agency (ADSEMA), announced this when he spoke with the News Agency of Nigeria (NAN) in Yola on Monday.
Already, NAN gathered that the Marine branch of the State Police Command and other similar agencies have been mobilised to commence rescue operation.
The dam, from the Gongola River, is about 30 kilometres in length and 15 kilometres in width.
"A report reaching us is that the flood had trapped several communities in Guyuk, Shelleng and Lamurde local government areas. More is needed to be done to rescue the communities."
He said that there was still no report of death but many houses and farm lands had already been destroyed by the flood in the areas.
Furo said that already the agency had established some rescue camps for the affected victims in Borong in Demsa and Numan.
He said that the agency had also held an emergency meeting with Police Marine and other appropriate agencies for quick response mission.
Furo said that the aim of the joint meeting was to brief all authorities concerned on how to rescue the communities.
He said that there was need for all agencies concerned to unite to give their maximum contribution for the rescue mission.
"Among the agencies at the meeting included the police, Customs and Immigration marines and the State Fire Service.
He said the state government would do all it could to help repair the speed boats of the police marine for the rescue mission.
In his remark at the emergency meeting, ASP Gajere Raynan, the Head of Adamawa Police Marine Unit, said that the unit was ready to render its services in rescuing the affected communities.
Gajere urged the state government to provide speed boats for the mission.
He said that out of the 21 local government areas of the state, seven were directly on the bank of River Benue while two were beside the dam.
When contacted, Alhaji Sa'ad Bello, the State Coordinator, NEMA, said that the agency had contacted its headquarters over the flood.