UN Nations Secretary-General, Antonio Guterres, on Thursday, October 11, 2018 said he was "deeply saddened'' by reports that 200 people have died in floods in Nigeria.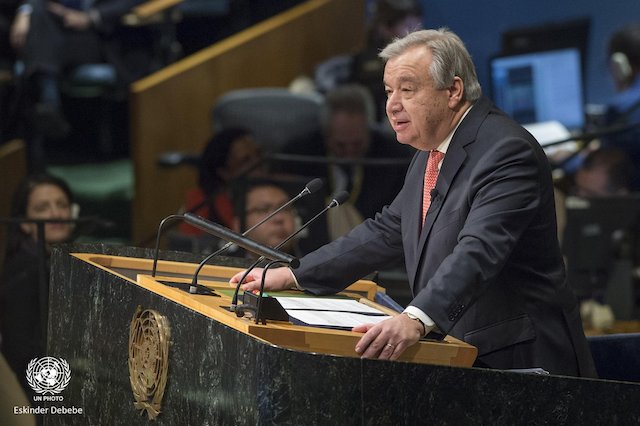 "The secretary-general extends his condolences to the families of the victims and to the Government and people of the Federal Republic of Nigeria and wishes the injured a speedy recovery," said a statement issued by the secretary-general's spokesman.
"The UN expresses its solidarity with Nigeria during this difficult time and stands ready to support as required," said the statement.
In addition to the rising death toll, 1,300 people have been reportedly injured and nearly two million affected by the recent flooding in areas along the Niger and Benue rivers in Nigeria.
More than half a million have been displaced and over 350,000 are in need of immediate humanitarian assistance.
Torrential rains have unleashed floods in different parts of Nigeria over the past few days, killing at least 200 people and damaging thousands of homes, according to officials.
A national disaster was initially declared in four states – Kogi, Niger, Anambra and Delta – over the flooding, meaning that the Federal Government had taken over the search, rescue and rehabilitation of victims.
"Based on the data available, 100 people have so far died in 10 states," Sani Datti, spokesperson for the National Emergency Management Agency (NEMA) said.
A national disaster was declared in four states – Kogi, Niger, Anambra and Delta. Kogi and Niger are in central Nigeria whereas the other two are in the south.
In Lokoja, the state capital of Kogi, floods partially submerged several houses. The city lies at the confluence of the Benue and the Niger, Africa's third-longest river, making it particularly vulnerable to high waters.
Nigeria's rainy season, which typically runs from March to September, brings with it inevitable flooding.
Such flooding is exacerbated by poor infrastructure and lack of planning to protect against the waters, but this year the destruction has been the worst since 2012.
At least 140 people were killed and tens of thousands forced to abandon their homes in 2012, in Nigeria's worst flooding in more than five decades.
The Nigeria Hydrological Services Agency (NIHSA) said that nine states on the River Niger trough and three others on River Benue trough may experience flooding this year, following persistent rainfall.
Some the states are: Niger, Anambra, Kwara, Kogi, Kebbi and Jigawa and Benue among others.
Besides the alert by relevant agencies, Nigerians are daily being inundated with news of effects of flooding, especially in Niger, where flood has led to loss of lives and destruction to farmlands, houses and other valuable property.
Hydrological experts have disclosed that the water level in some riverine state had risen to 10. 66 metres above the sea level.