The residents of Trademore Estate, located at Lugbe area of the Federal Capital Territory (FCT), have appealed to the FCT Administration to rescind its planned demolition of the estate.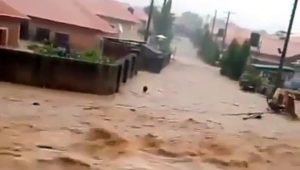 Chairman of the residents, Mr Adewale Adeleke, made the appeal in a news conference on Monday, July 3, 2023, in Abuja.
It will be recalled that a heavy downpour on June 23 submerged 116 houses in the estate.
The development led to the declaration of the estate as a "disaster zone" by the FCTA Permanent Secretary, Mr Olusade Adesola, on June 27.
Adesola had promised that the FCT administration would address the problem.
Similarly, Malam Shehu Ahmed, the Executive Secretary, Federal Capital Development Authority (FCDA), on Saturday announced the decision to demolish all structures on waterways across the nation's capital.
Ahmed said that buildings within the estate were earlier marked for demolition on several occasions,  alonside series of warnings and quit notices for the residents to vacate
The executive secretary, who is the chairman, Special Ministerial Task Team on Flood Mitigation, disclosed that a Police station, alongside other buildings in the estate, would be demolished.
However, the chairman of the residents, told journalists at the news conference that demolition would not solve the recurrent flooding in the estate.
Adeleke said that the proposed demolition, if executed, would create humanitarian problems, adding that it would increase the number of Internally Displaced Persons (IDPs) in the FCT.
"Rather than bring down houses in the estate, Aleita Dam should be evacuated, while the three culverts from ecological road, after Trademore, should be expanded.
"The water channel after the estate should also be expanded to accommodate more volume of water," he said
The Chairman explained that the estate was built in 2007 when Abuja Municipal Area Council (AMAC) was in charge of land allocation.
He added that the estate developer, Trademore Holdings Ltd., got the necessary allocation papers and approval from AMAC accordingly.
He further explained that when the FCTA took over, the developer went for recertification as directed by the administration, adding that no allottee on airport road has been recertified till date.
He said that 90 per cent of the houses in the estate were dully mortgaged and financed by the Federal Mortgage Bank of Nigeria.
"As such, Trademore Estate is not illegal and it is not a disaster zone.
"What we need is the implementation of the recommended solutions to the flooding," he said.
By Philip Yatai