A downpour on Thursday, April 27, 2023, caused flooding of the National Population Commission (NPC) and National Youth Service Corps (NYSC) premises at Babs Animashaun Road, Surulere, Lagos State.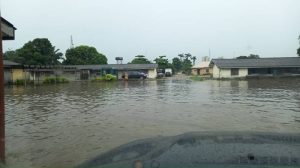 The heavy rain, which started about 11.30 a.m.,  continued until about 1.00 p.m.
The NPC and NYSC have, over the years, been witnessing severe flooding after rainfalls.
Thursday's flooding is of much concern since the NPC is set to conduct the 2023 National Census – a major national assignment – from May 3 to May 5.
When the rain subsided, workers and visitors were seen wading through the flood. Flooding poses great dangers to health and environment.
Some staff who spoke said it was "normal" for the area to be flooded whenever it rained.
However, they said they had expected the flooding to stop after the rehabilitation of Babs Animashaun Road.
Babs Animashaun Road is very critical to the connectivity and socio-economic development of the state since it connects Surulere axis to the Lagos-Badagry Expressway.
"Sadly, the situation is the same. The flooding here continues. I am not sure anyone considered the NPC, NOA and NYSC offices to do anything to stop or reduce the flood.
"We are located close to a canal, which makes it worse. We are not even talking about the effects of walking through the stagnant and dirty water,'' a worker said.
It was the same situation at the NYSC, Lagos State Secretariat, after the heavy rain.
Some corps members and visitors were seen outside the gate discussing in groups whether to go inside the compound or turn back.
Our correspondent observed that some of the staff eventually decided to turn back.
Following the rain, the National Emergency Management Agency (NEMA) advised Lagos residents to tak  precautions to avoid dangers.
Mr Ibrahim Farinloye, Territorial Coordinator (NEMA), Lagos, gave the advice in a statement on Thursday.
Farinloye advised school proprietors and teachers to keep children in their custody for 30 minutes after rainfalls before releasing them.
He advised people not to take refuge in makeshift shelters as the places could be washed off by floods.
He also urged drivers to exercise patience as the highways could be blocked and flooded.
By Vivian Ihechu