The Kogi State Government says it is doing everything possible to ensure that the embankment project along River Niger in Lokoja, the state capital, becomes a reality, to check the re-occurrence of flood, reminiscence of the 2012 flood in the state.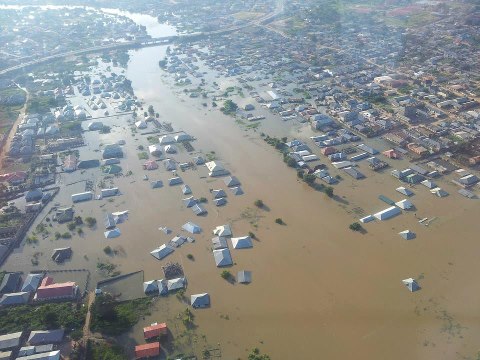 The Commissioner for Environment and Natural Resources, Mr Sanusi Yahaya, said this on Wednesday, July 11, 2018 while inspecting the level of work on the project in Lokoja.
He expressed satisfaction on the progress of work on the project so far, noting, "They have made a lot of progress with the funds released to them."
Yahaya expressed optimism that the project, when completed, would prevent flooding in the state capital and its environs.
"This project is very dear to the governor, Alhaji Yahaya Bello, because we can't predict the seasonal rainfall.
"We don't want to experience the kind of devastating flood we had in 2012, that is why we are working hard to ensure that this project is delivered as soon as possible.
"It is a joint project between the Federal Government and the state and millions of naira have been spent on this project."
He noted that the length of the lower retaining wall of the embankment had been completed up to the Marine Police Junction, hoping that the sand filling would be done as soon as the issue of access is addressed.
''Some shades will have to give way for trucks to come in and the higher retaining wall and dressing of sand filling will be done.''
Briefing the commissioner, the site engineer, Aliyu Taofiq, assured that every effort was being done, assiduously, to ensure the completion of the project and delivered in October.
He explained that the level of work done so far had helped in pushing the water backward, saying it would go a long way in preventing flooding.
Taofiq however urged the government to ensure the immediate evacuation of the road side traders operating around the river bank to enable the company handling the project move in equipment without further delay.
The News Agency of Nigeria (NAN) reports that Lokoja and many local government areas in the state suffered devastating effect of flood seven years ago, which destroyed many property worth millions of naira.
By Stephen Adeleye