The raging floods that have engulfed Kenya since March have claimed 132 lives and displaced 222,456 people, the government said on Wednesday, May 9, 2018.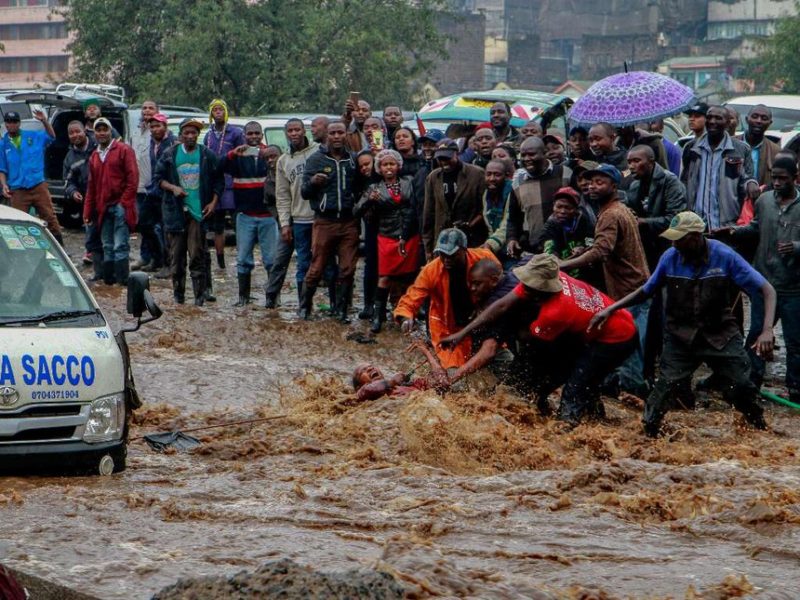 Karanja Kibicho, the Principal Secretary in the Ministry of Interior, called on Kenyans to exercise caution and extreme care during heavy rains in flood prone areas.
"Latest statistics indicate that 222,456 people have been displaced by floods while, sadly, another 132 lives have been lost in the floods," Kibicho said in a statement issued in Nairobi.
He said a multi-sectoral team which had been formed since the onset of the rainy season in March has been working round the clock to rescue flood victims as well as to provide food and medicines to citizens in all the affected 32 counties in the country.
Kibicho said the government had so far distributed food worth $6 million and large quantities of essential medicines to prevent or contain outbreak of water borne diseases.
"The government will continue to carry out various mitigation activities across the floods affected parts of the country to rescue marooned citizens, distribute food and medicines.
"Others are water, restore water and sanitation systems to ensure hygienic conditions," Kibcho said.
The East African nation has been experiencing unprecedented flooding in recent days as torrential rains pound the country shortly after it had come out of a severe drought season marked by hunger and water scarcity.
The low lying plains have borne the brunt of floods as evidenced by massive destruction of homes, farms, infrastructure and basic amenities like schools and hospitals.
Many schools in the arid and semi-arid regions are already submerged in floods hence putting uncertainties on resumption of studies after the April holiday.
Major cities have also been affected by flooding that is to blame for gridlock and clogged drainage system.
It is feared that an epidemic could erupt in big cities like Nairobi and Mombasa due to contamination of drinking water.