An aquaculture expert, Mr Remi Ahmed, on Wednesday, May 16, 2018 warned that fishes caught in plastic-infested waterways are dangerous for consumption.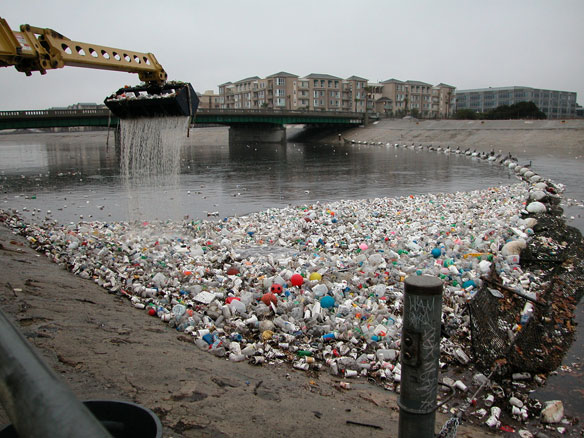 Ahmed, National President, Tilapia Aquaculture Developers Association of Nigeria (TADAN), made the disclosure in Lagos against the backdrop of increasing plastic wastes in the state.
He said that plastic wastes were becoming a huge environmental challenge that needed proper evacuation handling to avoid total destruction of the ecosystem as they were not biodegradable.
According to him, fishermen are already being obstructed by this ocean garbage, prompting their going further into the ocean to fish.
"Seeing what is happening in our waters, it is clearly getting too polluted and aquatic animals coming from this environment definitely will not be good food to eat.
"A lot of our people buy these fish because they come very cheap, irrespective of the fact that they know they are not supposed to consume what comes out of such environment.
"However, because of the low purchasing power, there are no alternate foods for now,'' he said.
The TADAN boss was recently conferred a fellow of the Fisheries Society of Nigeria.
Ahmed, who was decorated for his contributions to promoting aquaculture, said that the increased presence of locally produced fish like tilapia and catfish of different sizes could service the general public.
Ahmed said: "We are encouraging market presence of locally produced fish of different sizes.
"These will attract different prices for the categories like small sizes for the lower cadre of the public, big sizes for the average and bigger cadre of the public."
NAN reports that a 2010 research by Rolf Halden, Associate Professor, School of Sustainable Engineering, Arizona State University in the USA, is relied on concerning the hazards of plastics to humans and the ecosystems.
Halden, an Assistant Director, Environmental Biotechnology, Biodesign Institute, said in his findings that patches of oceanic garbage hold a high volume of non-biodegradable plastics.
He said that aquatic birds and fish are increasingly victims because biodegradation processes are inadequate to eliminate this durable refuse.