Following the response of Nigeria's former Senate President, Dr. Abubakar Bukola Saraki, to a tweet by the leader of the PickThatTrash team in Kwara State, the Senate President welcomed some young environmentalists to take a tour of one of his recycling and packaging companies in Ilorin that provides jobs for about a 100 young people.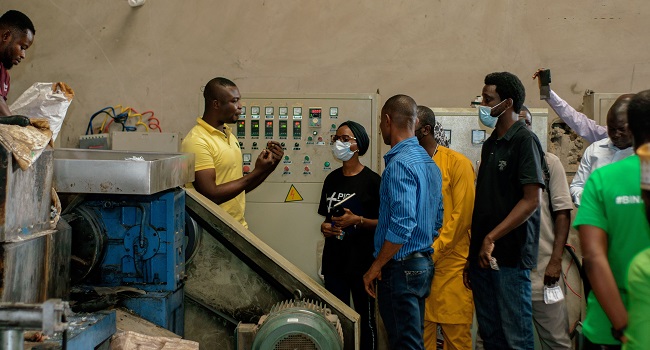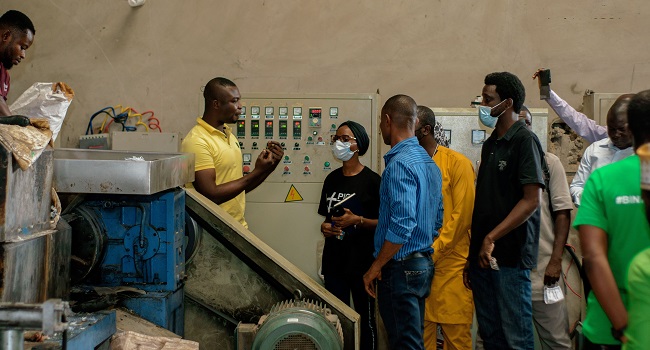 Recently, youth groups and individuals have called for increased prioritising of the environment by the Nigerian government at all levels, as well as from businesses and private sectors. Earlier in the year, during her Green Hangout which held on Global Recycling Day, March 15, 2020, the anti-littering group, PickThatTrash, had identified on-site educational visit of available recycling companies as one of the ways to encourage more young people to embrace sustainability.
According to the former Senate President, the company has consistently grown over the last three years and he is working towards making the recycling and packaging company more efficient ahead of its expansion.
During the visit, Mr. Kareem Abdullateef, the Plant Manager, and Mr. Imeh Okon, the Production Manager, welcomed the young environmentalists, briefing them about safety precautions put in place during operations. The members of the group were taken through the process of recycling, from the raw materials stage to sorting, recycling, extruding, cutting, packaging, and eventually storage.
The company, Quality Packaging Limited, is said to be driven by local content policy which is reflected in their engagement of youth with skills impacted, sourcing their raw material locally and servicing Kwara state's packaging market.
"One of the goals of the organisation is to make the environment greener and create more jobs. The company is looking to expand into managing other wastes that can be recycled considering the effects of burning waste to the greenhouse and how it affects livelihood," said Mr. Abdullateef.
Currently, the company is on the experimental platform for recycling as waste-to-wealth of polyethylene (nylons) materials to packaging products like household items, waste bags, etc. The recycling production company runs on 24 hours shift operation with over 70% staff from local communities in Asa LGA of Kwara State and also 65% of the recycled waste is sourced from Kwara State.
After the visit, Ms. Baliqees Salaudeen, the leader of the PickThatTrash group, expressed gratitude to the management of the company and called on the government to make Nigeria more suitable for recycling companies and sustainability-inclined investors.
By Otukoko Olayinka Ibrahim and Seyifunmi Adebote