The Stockholm Industry Water Award (SIWA) was on Sunday, August 23, 2015 in Sweden awarded to CH2M, a global service and engineering company, for developing and advancing methods to clean water, and increasing public acceptance of recycled water.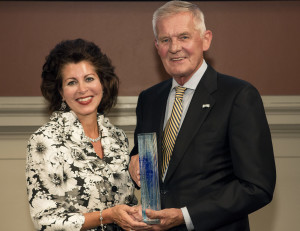 "CH2M is thrilled to be the recipient of the 2015 Stockholm Industry Water Award. The advances in water re-use technology developed by CH2M have helped revolutionise water re-use and availability, and build safe long-term water supplies for communities around the world. But without our clients, none of this would be possible," said Jacqueline Hinman, Chairman and CEO of CH2M, after accepting the award from SIWI Chairman Peter Forssman during a ceremony held at the ongoing World Water Week in Stockholm.
CH2M has invented, implemented and refined methods for cleaning used water back to drinking water quality. However, since this water is only valuable if people actually use it, the firm has put significant effort into building public acceptance and appreciation. They pioneered the application of social science to better understand the reasons why people reject the notion of reuse and what might be done to change that mindset. This research, combined with demonstrations, education and transparency has dispelled myths around use of treated wastewater and paved the way for a surge in interest in and acceptance of putting purified sewage water back in household pipes.
"CH2M's work for public acceptance of drinking treated wastewater is impressive. They are an engineering company that has gone beyond their technical roots to work for a better world. We must focus on the water we have, and make sure we use it well and can use it again, and again," said Peter Forssman, Chairman of SIWI.
"CH2M's commitment to water re-use remains steadfast, and our journey continues from here. Water scarcity is a global issue that requires innovative thinking, technology and strong relationships with government and the community to solve. Receiving the 2015 Stockholm Industry Water Award is a tremendous testament to the landmark projects we have worked on with our clients around the world and the passion of our employees, who are dedicated to delivering solutions that secure a sustainable future for generations to come," said Jacqueline Hinman.
"In a rapidly urbanizing world where the vast majority of sewage spills untreated out into the environment, the transformative technologies and strategic communication of this year's SIWA winner has provided a significant step towards future water security of cities," the Award Committee stated when the winner was announced in June this year.
The SIWA was established in 2000 to stimulate and celebrate outstanding and transformative water achievements by companies in improving production, managing risks, finding solutions and contributing to wise water management. The Royal Swedish Academy of Engineering Sciences (IVA) and the World Business Council for Sustainable Development (WBCSD) were partners in establishing the award, which is also supported by International Water Association (IWA) and World Wide Fund for Nature (WWF).
Founded in 1946, employee-owned CH2M is a global leader in consulting, design, design-build, operations, and programme management for government, civil, industrial, and energy clients. The firm's work is concentrated in the areas of water, transportation, environment, nuclear, energy, facilities and urban environments. It is based in Denver, Colorado. In the 1960s, CH2M pioneered the third, advanced stage of effluent treatment by removing excess phosphorous, nitrogen and trace metals, restoring the used water of the South Tahoe Public Utility to pristine purity. In the 1970s, CH2M designed the world's first surface water indirect potable re-use plant, improving the water quality for more than one million people in northern Virginia. CH2M continued to evolve water re-use practices and in the early 2000s worked with Singapore's national water agency, to not only prove the safety of potable reuse, but to win public acceptance with the country's NEWater project.