Metropolitan Lagos' most famous dumpsite at Olusosun in Ojota has been gutted by fire, leaving residents, motorists and commuters panicky.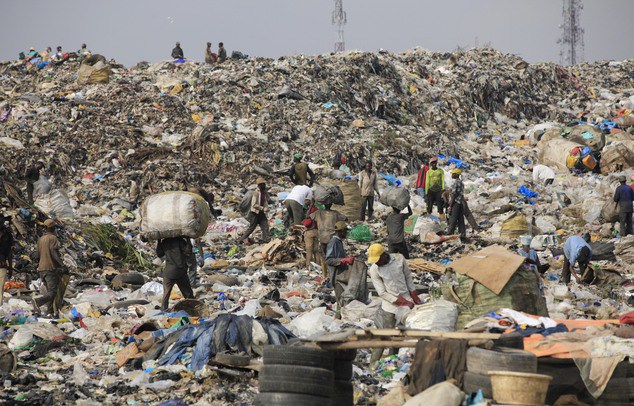 Huge fireballs and smoke could be seen far from the site, located near the old Lagos Toll Gate.
Mr Adesina Tiamiyu, the General Manager of the Lagos State Emergency Management Agency (LASEMA), told the News Agency of Nigeria (NAN) on Wednesday, March 14, 2018 that the cause of the fire outbreak was yet to be ascertained.
Tiamiyu said that what was of utmost importance was to stop the fire, so that it does not extend to the LAGBUS Terminus.
He said that the fire started around 4pm and there was no casualty.
According to him, the emergency response team, the Lagos Fire Service, the Lagos Waste Management Authority (LAWMA) were at the site to curtail the fire.
NAN reports that the Lagos State Government has said that the Olusosun and other dumpsites will be closed down, as part of the Cleaner Lagos Initiative (CLI).
The government, through an environmental utility firm, Visionscape Sanitation Solutions, has commenced the construction of the first engineered sanitary landfill in Epe, to ensure better waste management.
"Cleaner Lagos", a Twitter handle of the Ministry of Environment, explained the possible cause of fire, saying: "It is necessary to clarify that the fire at Olusosun dumpsite wasn't deliberately set by the Lagos State Government or any individual. It broke out as a result of the pockets of unstable gases caused by indiscriminate dumping and further compounded by dry weather."
By Okuanwan Offiong and Florence Onuegbu