Christiana Figueres, former Executive Secretary of the United Nations Framework Convention on Climate Change (UNFCCC), and Convenor of Mission 2020, was on Thursday, June 7, 2017 announced as Global Ambassador of the Under2 Coalition – a leading network of international sub-national governments that are working together to find shared solutions to climate change.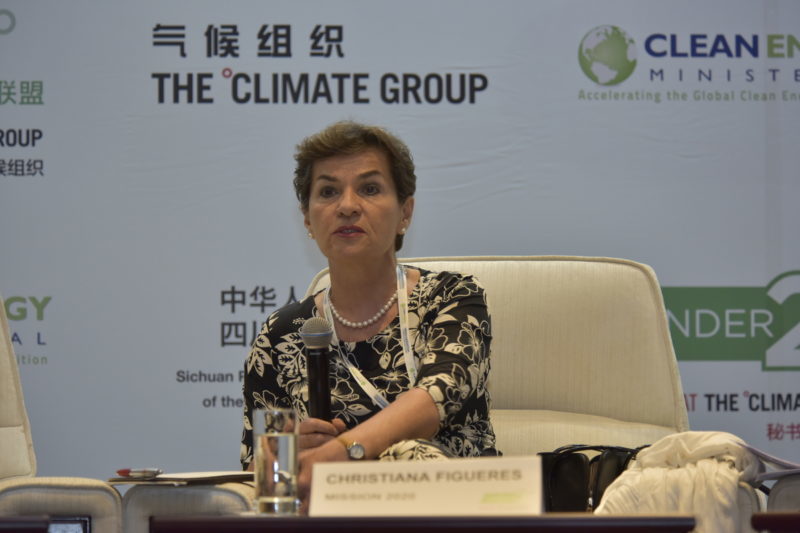 The announcement was made in Beijing, China during the Under2 Clean Energy Forum – a side event of the eighth Clean Energy Ministerial, The forum explored, through a series of high-level roundtables and keynotes, how sub-national governments and businesses can work together to deliver the Paris Agreement, following the announcement of the US intention to withdraw.
The event brought together high level delegates from across the world, including Governor Edmund. G Brown, State of California; Rachel Kyte, CEO and Special Representative of the UN Secretary General for Sustainable Energy for All; and Katie Hill, Head of Global Supplier Clean Energy Programme, Apple.
Figueres said: "I'm delighted to have been named as Global Ambassador for the Under2 Coalition. It has never been more important for states and regions to work together to help promote clean energy economies and limit global temperature rises. To give us the best chance of staying below two degrees of warming, we will need to bend the curve of emissions by 2020, so I look forward to playing an active role in raising awareness of the Coalition's ambitions."
Set up in 2015 by the States of California and Baden-Württemberg to galvanise sub-national leadership on climate change, the Coalition now encompasses 175 governments, spanning six continents and 35 countries, comprising over 1.2 billion people and more than US$28.8 trillion of the global economy. Coalition signatories are committed to either reducing their greenhouse gas (GHG) emissions from 80% to 95% below 1990 levels or limit emissions to less than two metric tons per capita annually by 2050.
Governor Brown, a founder of the Coalition stated: "Christiana Figueres has been a strong ally in the global effort to curb carbon pollution and we welcome her work to expand our Under2 Coalition to even more cities, states, regions and countries throughout the world."
Also at the event, states and regions reaffirmed their commitment to climate action. Five new endorsers and signatories to the Under2 Coalition were announced, including Denmark, the State of Chhattisgarh (India), Region of Brittany (France) and South African Provinces KwaZulu-Natal and Western Cape.
Helen Clarkson, CEO, The Climate Group, said: "While the Trump administration is talking about the credibility of Paris, the rest of the world is moving on to action and delivery. States, regions and businesses are leading actions to limit warming and they are already seeing the economic and health benefits.
"Today's announcement of the continued growth of the Under2 Coalition, with new signatories and Christiana as Global Ambassador demonstrates the continued momentum."
Ulla Tørnæs, Danish Minister for Development Cooperation, said: "I am pleased that Denmark now formally is an endorsing partner of the Under2 Coalition. Achieving the goals of the Paris Climate Agreement will require strong action at all levels – not least at local and regional levels. Regions have a decisive role to play in moving the political ambitions from Paris into real action. The Under2 Coalition has already built a strong coalition of regions behind this work, which I very much welcome, especially in light of recent developments. The need for strong alliances working to achieve the climate targets is more needed than ever."
Mahesh Gagda, Minister of Forests, Law and Legal Affairs, Government of Chhattisgarh, said: "Today our world is facing the big challenge of climate change and we all bear the burden of sharing the responsibility of addressing it. A challenge of this magnitude cannot be fought only at the national level. I am of the firm belief that sub-national collaborations between state governments and provinces, provides a great opportunity to further bridge the gap between nations, their people and culture. Chhattisgarh State will undertake all possible efforts to fulfill India's NDC commitment. Let us all resolve to contribute our bit in the fight against climate change."
Dominique Ramard, Vice President, Brittany, said: "Brittany, as a French and European region is deeply committed to climate protection. It is an engagement for the planet as well as a robust business strategy that provides guidelines for the transition to a more sustainable society."
Anton Bredell, Provincial Minister for Environmental Affairs and Development Planning, Western Cape, said: "The decision to join the Under2 Coalition of global provinces, states and regions committed to driving ambitious climate action was not a difficult one as it aligns with the Western Cape Government's aspiration of being a low carbon province."
T W Mchunu, Premier, KwaZulu-Natal, said: "The signing of this Under2 MoU signals our commitment in implementing the Paris Agreement as signed by our national government. Work that led to this Paris Agreement began in our very own city of Durban, in KwaZulu-Natal in 2011 when we hosted COP17."
The Under2 Clean Energy Forum was hosted by The Climate Group, in partnership with the State of California, the People's Government of Sichuan Province and the Energy Foundation.