As the Rivers State Government battles soot emission in Port Harcourt and parts of the state, Indorama Nigeria, producers of polymer and urea fertiliser, says its facilities do not contribute to the air pollution.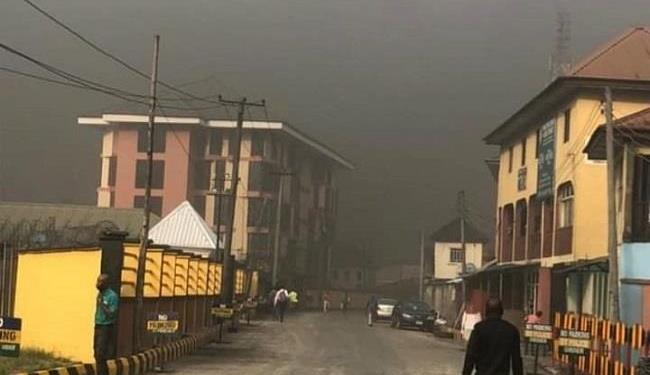 The Head of Corporate Communications of Indorama, Dr Jossy Nkwocha, stated this on Monday, January 31, 2022, after a tour of the company's facilities with journalists in Eleme, near Port Harcourt.
The air pollution, largely attributed to the operations of illegal artisanal refineries in the state, has become a source of worry to residents of the Rivers State capital and environs.
Nkwocha said though there was no accusation against the company on emission of soot, the management decided to take a proactive step to explain that the company does not generate soot in its operation.
"We have taken this pain to bring journalists from different media to see for themselves, and we have shown you all our fertiliser and petrochemical operations.
"This is to show you that we are an open book, and that Indorama operations do not emit soot whatsoever; we have a closed system, and it doesn't allow any extraneous gas to escape," he said.
According to him, the company buys hydrocarbon from TotalEnergies and Agip Oil Company, and will never allow its raw materials to waste by flaring it.
"So, as explained in the control room, soot can only occur here in these facilities when combustion is incomplete, but because we operate a close system, combustion is always complete.
"Again, we cannot do anything that will cause loss to us because incomplete combustion means hydrocarbon that we buy as raw material is not used up," he added.
Nkwocha disclosed that Indorama had three international certifications on environmental health and safety: ISO 9001, ISO 14001 and ISO 45001.
He emphasised that the company could not afford to lower its standard and lose the certificates from the British Safety Council, that has to do with Quality Management System (QMS).
"ISO 9001 has to do with meeting customer's satisfaction and continuous improvement in QMS; ISO 14001 deals with prevention of pollution and reduction of environmental impact of our activities.
"ISO 45001 covers prevention of injuries and ill-health, reduction of accidents, continuous improvement of occupational health and safety requirements.
"All the three certificates contain provision for continuous compliance with applicable legal requirements," he stated.
Nkwocha further said the company was being monitored by the Ministry of Environment at the Federal and State levels, Department of Petroleum (DPR) and National Environmental Standards and Regulations Enforcement Agency (NESREA).
"These third party agents do quarterly audit of our facilities to ensure that we comply with standards and applicable legal requirements.
"In fact, the ambient air quality is measured in six locations within the company complex and four locations in the host communities.
"Indorama has received five safety award and sword of honour award from the British Safety Council after audit," the head of corporate communications said.
By Omuboye Sukubo