Rounding off a three-day mission to Nigeria, the Executive Director of the UN Office on Drugs and Crime (UNODC), Yury Fedotov, met with President Muhammadu Buhari and emphasised his organisation's unwavering support for the country.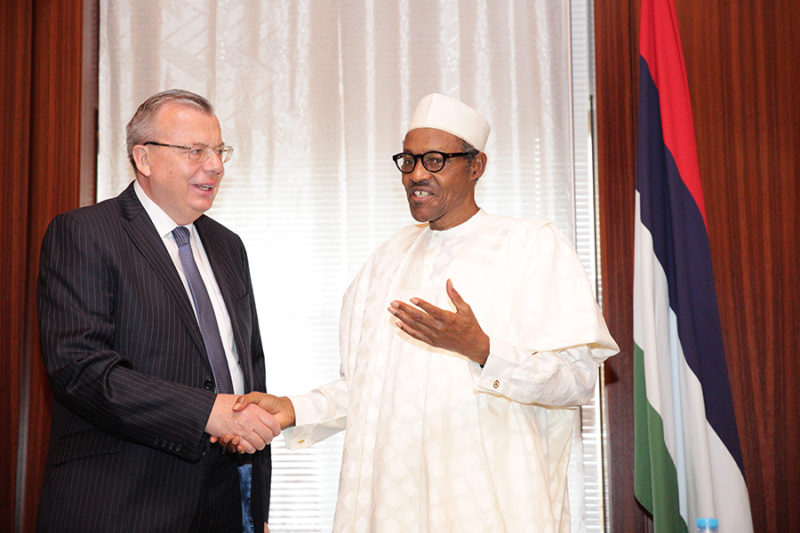 "There can be no doubt that Nigeria has suffered from the ravages of corruption, terrorism, piracy and other crimes; but it remains fully committed to working with international organisations such as the UN and the European Union to counter these threats," said Mr. Fedotov.
"Such dedication calls for the international community to continue to display similar resoluteness and to redouble efforts to assist the country," he said.
In a statement endorsed by Sylvester Atere, the Outreach and Communications Officer of UNODC, Mr. Fedotov reportedly informed President Buhari that Nigeria could play an active role in encouraging every African country to fully implement the Doha Declaration, endorsed at the 13th Crime Congress, as well as the Joint Commitment adopted at the UN General Assembly special session on the world drug problem in April this year.
To help, UNODC was working with partners on an integrated approach to achieving the 2030 agenda for sustainable development and urging countries to support security, justice, good governance and the rule of law as part of the promotion of development.
"UNODC is ready and eager to work together with partners within and outside the UN system, including Nigeria, to offer firm support to implement the 2030 agenda," said the UNODC Chief.
Mr. Fedotov also praised President Buhari's personal commitment against corruption and thanked him for Nigeria's participation in the review mechanism of the landmark UN Convention against Corruption which calls for states to be reviewed by two peers.
During his mission to Nigeria, the UNODC Executive Director held a series of meetings with government officials including the Minister of Foreign Affairs Geoffrey Onyeama, the Minister of Justice Abubakar Malami, as well as the former Minister of Foreign Affairs, Ibrahim Agboola Gambari.
Visits were also made to the UNODC office in Abuja, as well as Kuje Prison to launch a new UNODC supported drug treatment counselling facility.
In a meeting with the Vice President of the Economic Community of West African States (ECOWAS), Edward Singhatey, both parties underlined the excellent relationship existing between the two organisations in combating drugs and promoting a balanced approach. Both are strongly committed to ensure the completion and adoption of the ECOWAS action plan 2016-2020 and the UNODC regional Programme for West Africa for the same period.
Nigeria is one of UNODC's most important strategic priorities. The country has UNODC's largest portfolio in Africa, and is one of its largest in the world.
Funding is provided by the European Union, as well as Japan, Switzerland and Germany. Projects deliver a broad range of activities designed to counter corruption, drugs, terrorism, human trafficking, smuggling of migrants, as well as uphold the rule of law and enhance criminal justice.