The Faculty of Agriculture of the Federal University Ndufu Alike Ikwo (FUNAI), Ebonyi State on Thursday, May 18, 2017 inaugurated its farm, even as it called on the various stakeholders in the country to show greater commitment to agriculture and allied activities to end hunger and poverty in the land.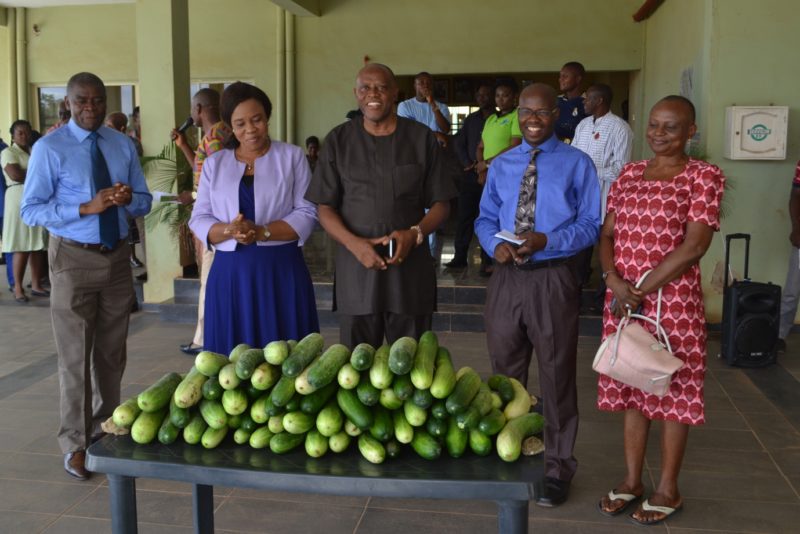 Declaring the event open, the Vice Chancellor of the University, Professor Chinedum Nwajiuba, who was represented by his Deputy, Professor Sunday Elom, noted that the varsity's farm would be productive and self-sustaining, as well as devoid of bureaucratic bottlenecks that have negated the success of many university farms in Nigeria.
Professor Elom reiterated the university's determination towards grooming people with hands-on experience, saying: "We don't just want to run and operate a normal Faculty of Agriculture, but one with a difference.
"We are determined to make a difference that is why we decided to make the University farm productive and self-sustaining. The products (cucumber) are organically produced and it's different from the ones you have in the market."
Earlier, the Dean, Faculty of Agriculture, Professor Johnny Ogunji, blamed the nation's economic woes on the discovery of oil at Oloibiri in Bayelsa State which, according to him, triggered a paradigm shift away from agriculture.
Decrying the nation's overreliance on crude oil, Ogunji said agriculture was the surest way out of the economic woods facing the nation, and called on Nigerians to return to farming for food security.
He invited members of the university community to be co-owners of the farm by buying at least 400 units of its shares at N50 each. This, he said, would increase the capital base of the farm and enable them embark on other commercial farming activities.
The inauguration was witnessed by members of the university community that include some Management staff.
The highpoint of the event was the sale of cucumbers which were produced in the university farm.