The recent display, in Ibadan, of 140 works of art including "Lake Fishing" and "The Bikers" shows the strength of art galleries in connecting people with their environments.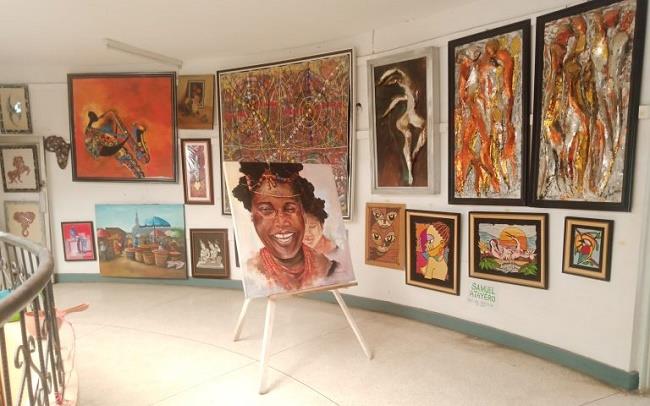 Paintings on "Erin Karele Kowajoba" (where an elephant was enticed home with bean cake to become king) and "Seven Calabash Carriers" were among the works of art at a one-month exhibition tagged: "Ajowofin Abudaaye" (Encounter with Nature).
A visual artist, Mr Abiodun Fagbohun, presented the works at the Tunde Odunlade Arts and Culture Connexions (TOACC).
The paintings, depicting the beauty of nature, were aimed at encouraging people to admire the works of God, connect with their environments and invest in artworks.
"Being a lover of nature and environment, I started drawing from primary school.
"I have travelled around; hence, I use diverse cultures and how God has blessed the world in terms of animals, plants and humans, to draw inspiration," Fagbohun says.
According to the Curator of TOACC, Prince Tunde Odunlade, art exhibitions have helped people to share, connect and interact within the universal ambience of creativity and imagination.
Odunlade is convinced that arts and culture are the bedrock of meaningful development.
"Art brings people together; it inspires, informs, heals and provokes good thoughts; art affects and, therefore, liberates,'' he says.
Quoting famous Spanish artist, Pablo Picasso, the curator says art is a lie that makes people to see the truth.
He gives the assurance that TOACC will continue to create awareness and direct people's interests toward workable agenda, using art as a tool.
According to him, TOACC inaugurated on Dec. 10, 2020, has made significant impacts on the culture, tourism and other sectors, and has received no fewer than 20,000 visitors including the U.S. Ambassador to Nigeria, Mary Beth Leonard.
Odunlade is satisfied that the gallery has showcased art exhibitions, musical, dramatic and literary performances as well as hosted conferences, seminars and symposia geared toward nation-building.
He believes that more art talents can be discovered through effective use of galleries.
"We have organised several workshops and trainings, hunting for talents.''
According to the curator, galleries should be used to promote the use of mother tongues.
"TOACC organises Spoken Words Et Al (Aditu Ede) every Wednesday with the aim of using different languages to communicate and promote culture.
"The essence is to use our words in whichever way – poetry, chanting, prose, singing, story-telling, even dance, music, acting, miming, as the case may be – to unite.''
He describes Spoken Words Et Al as an awareness creation drive toward a just and egalitarian society.
"Popular among the different programmes are proverbs and idioms, Oriki Orile (community Oratorical rendition), Itan Idile (family history),'' he notes.
He urges managements of galleries not to be deterred by challenges but to be proactive and focused.
The Coordinator of Spoken Words Et Al, Miss Iqmat Babarinde, explains that the goal is to enlighten people on Yoruba culture "in a world where culture is gradually dying".
"Our target audience includes creatives, culture-inclined minds, poets and writers, among others," she says.
A visual artist, Mr Kola Akintola, believes that galleries provide huge opportunities for development of art and culture, urging that they should be effectively used.
He is satisfied that TOACC is making efforts to transform lives and industries.
"Through the various trainings I received from the gallery, I discovered my talent and became a renowned artist of our time.''
The Curator of De-Arts Place Magodo, Lekki, Lagos State, Mr Sola Olamakinde, believes that galleries can be effectively used to express philosophical ideologies of a people.
Olamakinde is convinced that arts in general, if well promoted, will improve economies
and cultural values.
Young Aminat Akangbe describes galleries as having huge potential for job creation, urging effective use to encourage the youth.
Analysts call for more efforts to use galleries to connect people with their environments, promote arts and culture and create opportunities for young artists and artistes to attain their goals.
By Chidinma Ewunonu-Aluko