The Federal Capital Territory Administration (FCTA) has, through its Abuja Environmental Protection Board (AEPB), introduced Blue Bin Project to reduce the quantum of wastes that go to its landfill.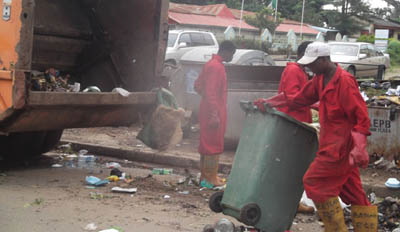 Malam Muhammed Bello, the Minister of Federal Capital Territory (FCT), said this in Abuja on Tuesday, June 5, 2018 at the commemoration of the 2018 World Environment Day (WED).
The News Agency of Nigeria reports that the commemoration has ''Beat Plastic Pollution'' as its theme.
Bello, who was represented by the Coordinator, Abuja Metropolitan Management Council (AMMC), Mr Umaru Shuaibu, said the project involved recycling of waste materials with a view to reducing waste in the FCT.
''In 2016, based on Memorandum of Understanding (MoU) between the Administration and Japan International Cooperation Agency (JICA), the AEPB introduced an integrated Solid Wastes Management pilot scheme, in life Camp District of FCT.''
According to him, FCTA promotes the three concepts of waste management which are aimed at reducing, reusing and recycling wastes.
''In the FCT, we shall continue to take very proactive steps towards ameliorating the hazards of plastic pollution.
''We are working to increase general awareness among the populace on the consequences of disposable plastics on the environment.
''One way of doing this, we believe is by sticking with one of the slogans of WED, which is `If you cannot reuse it, refuse it', the minister said.
AEPB Director, Baba-Shehu Lawan, said that 13 million plastics were being dumped in the world indiscriminately into land, river and ocean yearly.
He described plastics as non-biodegradable which destroyed marine life and the environment.
Lawan said that AEPB joined the world to commemorate WED to raise awareness on people's actions that led to the blockage of water channels and caused the destruction of the environment.
The Chairman, AEPB Governing Board, Dr Baruwa Yahaya, who said that the environmental management was a collective responsibility, urged residents to assist in controlling plastic pollution in the FCT.
NAN reports that the FCT minister and other stakeholders in the environment sector plant tree seedlings to commemorate the day.
By Deji Abdulwahab