An agriculture expert, Mr Ismail Olawale, has called on local farmers to adopt greenhouse farming to boost food security in the country.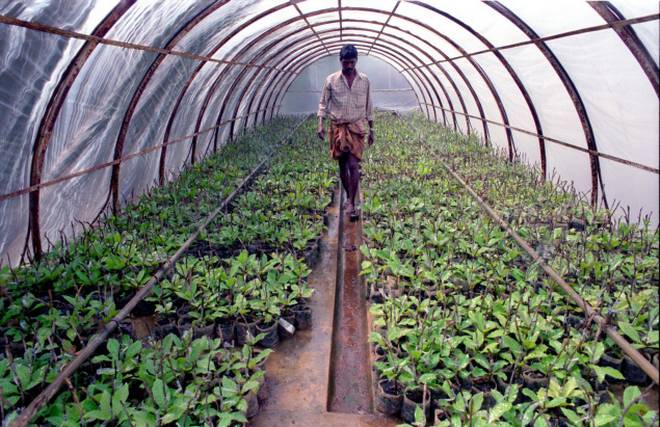 Olawale told the News Agency of Nigeria (NAN) on Thursday, September 27, 2018 in Lagos that the benefits of farming were enormous.
Greenhouse farming is an alternative method of farming where plants are cultivated in environmentally controlled structures or building, which in turn result in more agricultural yields.
"There is advancement in agric-technology that reveals that the lesser some plants are exposed to sunlight the better and fresher they are for consumption.
"Greenhouse farming, apart from its affordability, is environmentally friendly and an alternative healthy way of farming.
"Food insecurity can be tackled when the nuclear family also adopt greenhouse farming in cultivating their basic vegetable needs," he told NAN.
While calling on Nigerian farmers to embrace the various aspects of greenhouse farming, the expert said the knowledge would boost agricultural production in the country.
"I advise Nigerian farmers on a large scale to adopt the greenhouse farming technology; many are currently embarking on it.
"There is a lady-farmer in Abuja, currently into Aqua-farming, an offshoot of greenhouse farming technology where no soil is required to cultivate crops and makes a marginal profit from it.
"Most countries are moving from parallel farming which requires much land space to horizontal farming a product of greenhouse farming, where crops are cultivated in steps and layers," he said.
Olawale also tasked local farmers to learn the skill sets necessary to adopt the greenhouse farming before embarking on it on a full-scale.
"There are abounding opportunities for local farmers to learn greenhouse farming technology in Nigeria.
"The National Agriculture Extension Research and Liaison Service (NAERLS) has partnered with international agriculture institutions to train farmers and extension officers.
"Nigerian farmers are being sensitised towards greenhouse farming, but the problem is that they are too rigid in trying to do away with the traditional methods of farming.
"Nigerian farmers are used to land farming because greenhouse farming is technologically driven and requires a lot time and patience; hence they opt for the former.
"Although time consuming, greenhouse farming will result in greater agricultural produce yield," Olawale added.
By Mercy Omoike