Farmers, under the aegis of Zero Hunger Commodities, have called for increased support from the Federal Government to enable farmers to engage in massive food production across the country.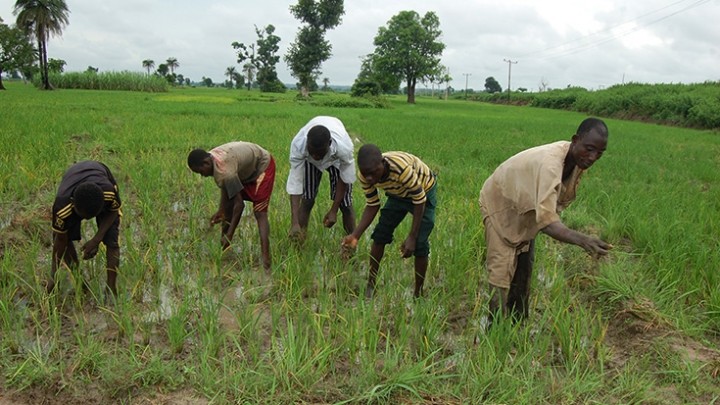 They made the call in separate interviews with News Agency of Nigeria (NAN) on the sidelines of their recent meeting in Abuja.
Dr Tunde Arosanyin, the National Coordinator of Zero Hunger Commodities, said that the government had only been very forthcoming in the area of support to the country's farmers.
He said that the development had compelled many farmers to abandon farming and take up other occupations, adding that the career switch might negatively affect food production in the coming years.
He said that in spite of the existing challenges, the agricultural sector still had a number of opportunities which could be further exploited by the private sector.
"However, factors like irrigation farming schemes, availability of farmers groups, existence of favourable policies and strategies, among others, would boost agricultural production and productivity, if they are well-harnessed and effectively utilised.
"Improved agricultural production will serve as a basis for poverty alleviation, particularly in the rural areas,'' he said.
Also speaking, Mr Daniel Okafor, the Chairman of Potatoes Farmers Association of Nigeria (POFAN), bemoaned the challenges currently facing Nigerian farmers despite the importance which the government had attached to agriculture in its efforts to revive the country's economy.
He stressed that the farmers were at the mercy of the buyers of farm produce, adding that they were facing other challenges such as post-harvest losses, particularly with regard to perishable produces.
"Certainly, government is slow in making efforts to help farmers out in achieving their dream of making the country a self-sufficient nation in food production,'' he said.
Okafor said that the government should put in place pragmatic mechanisms to purchase food commodities such as rice, garri and fish, among others, directly from local farmers, rather than importing those commodities from other countries.
He said that since the government had initiated its school feeding programme, tangible efforts should be made to compel the school authorities to buy food commodities directly from farmers.
He added that foodstuffs like rice, garri and fish, for instance, should be purchased directly from local farmers, rather than relying on food imports.
"No doubt, this will show the seriousness of the government in efforts to revive the agricultural sector and boost the nation's economy.
"I know it is better we get direct information from the farmers, which is the essence of holding this meeting but permit me to list a few challenges facing our farmers.
"A major challenge facing our farmers is post-harvest losses, as over 40 per cent of their harvests usually go bad due to the lack of storage facilities.
"Other problems include pest infestation of farms and lack of easy access to finance and markets,'' he added.
Mr Khalil Haliluan, the Chief Executive Officer of OyaOya, an online produce marketing firm, underscored the need to facilitate produce buying and selling processes in ways that would them less stressful or time consuming.
He said that efforts should also be made by all agricultural stakeholders to facilitate produce transportation to markets.
By Philomina Attah