In what looks like a display of courage, over 35 Ugandan religious leaders have issued a statement opposing the East African Crude Oil Pipeline (EACOP), Kingfisher and the Tilenga oil projects. They called for just compensation for those who had suffered from the project, and for TotalEnergies, China National Offshore Oil Company (CNOOC) and the Ugandan government to commit to universal access to clean energy.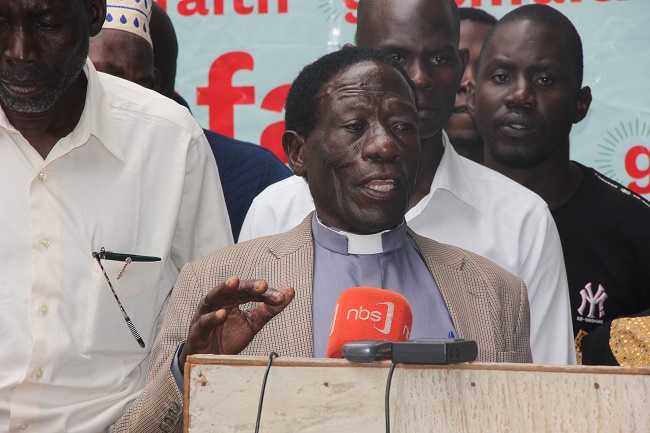 The leaders, drawn from Muslim and Christian faiths from some 12 Ugandan districts through which the 1,443-kilometre waxy crude oil pipeline is expected to pass, said they had moral authority to ensure their flock and environment's wellbeing.
"We draw our inspiration from knowing we have a duty to be stewards of God's creation. We demand proper compensation for people who lost crops and land. We demand fairness for those whose freedoms of speech, movement and association have been curtailed," a joint statement delivered by the faith leaders at the close of a two-day capacity building workshop in Kampala read.
EACOP is a heated crude oil pipeline project expected to pass through villages in Uganda's Hoima District to Tanzania's Tanga Port, where waxy oil drilled in the Lake Albert basin will be sold offshore in tankers.
The EACOP stakeholders are Uganda and Tanzania governments (each with 15 per cent), TotalEnergies (62 per cent) and CNOOC (8 per cent) in the $38 billion project.
Reports show the majority of the more than 3,648 project-affected persons in Uganda have either been compensated or are awaiting compensation after signing governments consent forms. But the religious leaders now say some of those who agreed to be compensated were not allowed to scrutinise the contents of the agreements.
"Others were tricked into accepting what they now realize was inadequate compensation. TotalEnergies and its agents told them that "everyone else" had accepted the money… This is pure malice," the statement read.
Earlier, Pastor Lukwago Edward, also a Community Monitor from Sembabule, said many people did not know the contents of the consent agreements they signed.
Mugisa Jealousy, who hails from Kasinyi Village in Ngwedo Sub-County of Buliisa District, and who was the chairperson of people seeking resettlement, told religious leaders attending the workshop organised by GreenFaith that the compensation was laughable.
"We were offered USh2,500,000 ($676) for land that should have earned us USh3,500,000 ($946). Compensation for fruits such as pineapples was as little as USh200 ($0.05) per piece. Today as I speak, their land is gone. The compensation was poor, their children are not going to school. They cut trees and burn charcoal for survival," he said, adding that this fuelled deforestation.
The Ugandan Cabinet has approved awarding of the license to allow EACOP construction work to begin in Hoima "subject to acquisition of all necessary permits". This despite efforts by civil society groups to oppose the oil projects.
The faith leaders urged their seniors at the Interreligious Council of Uganda to"push for the rights of the people we lead in our places of worship."
They sought access to critical information, including "documents that can assure the communities living along the pipeline of their security with regards to the dangers of fire and toxic contamination in case of an oil spill".
Such spills, they said, would also spell doom for biodiversity under water and in the surrounding environment.
"We need these documents translated into local languages," they stated.
Maxwell Atuhura, who organised the GreenFaith Grassroots Organiser in Uganda, urged the government not shrink the civic space.
"We rebuke, not to disrespect, but to point out areas that need more consideration… EACOP profits must not come at the expense of human rights," he said.
Jane Ampire, a Church of God Pastor in Sembabule, said her church land was hived off. She was told to stop complaining as the church would be left standing.
"After the oil project, nothing will grow on the land again. We need help," she said.
Bamuturaki William, a cleric at Ndandamire Catholic Church in Buliisa and a Community Leader, said: "We are losing so much as the Babungu people. People are losing land ownership due to intimidation. If you talk about oil in Bulisa, you are labeled as an anti-government."
The indigenous person affected by the oil projects said his family turned hostile when he rejected inadequate compensation for their 13 acres. He went to France to contest the actions but when he returned, he was detained at Entebbe Airport. He was later released, and warned that if he continued to oppose the EACOP work, he would lose his entire land. He has not taken the offered compensation.
"If oil is a curse, or a blessing, we will see. But I shall not entertain the mediocre compensation," he said.
Rev Raimond Oyungi, an Anglican priest and community mediator from Buliisa District, said oil projects had attracted many investors, minimising access to the same land. "Environmental degradation has also affected trees and birds," he said. The man has been aggressively planting trees.
Reverend Fred Musimenta, an Anglican priest and a PAP from Kikuube District and Joseph India from Kabale, Buliisa were grateful for the capacity building and opportunity to meet other affected people. "How do we have different compensation rates for different districts," said Mr India.
Hassan Osene said the area between Kampala and Bulisa was drying and animals dying.
Bainomugisa Ceasar, an SDA cleric, said corruption had messed up compensation. Kabonesa Sophia, an Inspector of Schools and Community Observer in Buliisa, said: "What happens in case of oil spill? People will run to scoop the spilled oil and many may die in fire incidents."
Beatrice Rukanyanga, an activist, said she was intimidated when her NGO spoke against oil projects. "I was told that I was not duly registered. Two other CBOs have suffered the same problem. As neighbours of the pipeline, we are left in the dark," she said.
She said the government offered them less than $100 to exhume bodies of their dead and hold ceremonies.
In Buliisa, according to Mr Bamuturaki, even the budget drawn for exhumation and reburial was not financed. "They facilitated minimally," he said.
As faith leaders, Mr Mugisa said, it was difficult to help communities to use USh1 million for the whole process. "Total later introduced a new plan in Buliisa, offering USh600,000. It did not help," he said. He said some years back, the culture did not allow exhumation. "Because of oil they told us to take the bodies with us. Everything is compulsory. When the spirits speak, you slaughter a goat to calm them. This is not catered for," he said.
Rev Magezi Ericwondered how the people left between two pipelines would be helped.
Representatives of GreenFaith, a multi-faith climate justice advocacy organisation, lauded participants at the event that also brought together youth and women environmental activists, for boldly speaking about fossil fuels.
"Africa is a little behind in faith leaders' holding governments accountable on matters that affect the rights of their followers. But the reality hits. You cannot continue to say "God is good" to a hungry congregation. You cannot comfortably teach hungry children in a Madrasa and expect them to follow and learn. Religious leaders must use their voice for the good of all," said Meryne Warah, the GreenFaith Global Director for Advocacy and Organising.
The two-day workshop was intended to build a strong solidarity against the EACOP and analyse the status of people of faith working in oil host communities. GreenFaith also launched new Circles in the workshop that was themed "Strengthening capacities of people of faith amidst closing civic space".