The issues of human security and conflict in relation to climate change recently in Abuja engaged the attention of a group of stakeholders, who explored avenues to address inherent challenges.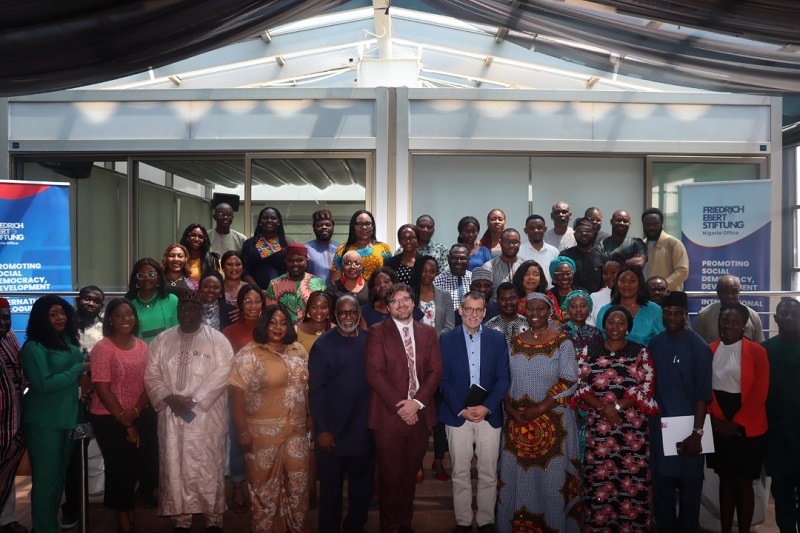 At an event themed: "Multistakeholder Forum on Climate Change as a Security Threat", climate and security experts from June 23 to 24, 2022, at the federal capital city added voice to the climate change and human security conversations in the country and fashioned out a way to relieve the stressed populace and economy.
According to organisers of the event, the Friedrich Ebert Stiftung (FES), climate change exacerbates the drivers of conflict by deepening existing fragilities within societies, straining weak institutions, reshaping power balances, and undermining post-conflict recovery and peacebuilding efforts.
"It can also lead to economic contraction by disrupting agricultural exports or damaging coastal economic infrastructure. These direct and indirect effects have consequently had political and security repercussions," added the German foundation.
In a keynote address, Mr Oseloka Obaze, CEO of Selonnes Consults Limited, said everyone has contributed to climate change and must take responsibility. He lamented that climate change does not get the response it merits from the national leadership.
"There is a disconnect between policy formulation and implementation to reality posed by climate change in Nigeria. The issue of climate change is not being addressed as it ought to," he said, adding that climate change influenced drought and desertification has reduced Lake Chad to half what it was a couple of decades ago.
In a presentation titled: "Climate Change as a Security Threat in Northern Nigeria: Issues and Opportunities for Research and Policy", Dr Chris Kwaja of the Centre for Peace and Security Studies at the Modibbo Adama University, Yola, Adamawa State, stated that the reality that northern Nigeria confronts in one in which the risks and uncertainties associated with climate change, is creating an unparalleled need for coordinated actions.
He said: "As it stands today, it is primarily the poor that constitute the bottom millions of the northern region that suffer more from the adverse effects of climate change in Nigeria. For instance, a rise in the number of displaced persons as a result of natural and human induced conditions, creates a major security dilemma in the context of the pressure it places on the ability of the government to contain such displacements, while dealing with the pressure on available infrastructure and natural resources that are strained."
Dr Kwaja stressed that, for Nigeria and other member states of the Lake Chad Basin Commission (LCBC), recharging the Lake Chad is one of the key pathways towards improving the economy and livelihoods of the millions of people that are dependent on it for survival.
"The focus here has to do with constructing a 2,400-kilometre-long navigable channel, with capacity to move water from the Congo Basin, located in the Democratic Republic of Congo (DRC), to the Lake Chad," he stated, calling on critical actors such as the FES to invest in strategic convenings at the national and sub-national levels, as a basis for providing a platform for exchange of ideas between and amongst three key actors – policy, research and practitioners.
He called on the authorities to support initiatives that seek to undertake scientific and evidence-based research in understanding the evolving nature and manifestations of climate change, with a view to providing concrete prescriptions for policy and programmatic responses.
"Since agriculture is the mainstay of the economy for all states that make up the northern region, the transformation of the agricultural sector through mechanisation and commercial agriculture as key drivers of growth and development, as well as livelihood, job and wealth creation remains an imperative," Kwaja declared, pointing out that support towards the transformation of the agricultural sector in northern Nigeria should be anchored on three interrelated four pillars: production, availability, accessibility and utilisation respectively.
He added: "In building and strengthening community resilience, integrate indigenous knowledge systems in climate change related policy designs and implementation, in order to achieve the core goal of adaptation. The Greet Green Wall (GGW) project is a good example of how best to achieve compatibility between government policy and community response, in the light of the fact that green belt solutions have been an integral part of community response over time."
In a presentation titled: "Climate Change as Security Threat in Southern Nigeria", Mr Sulaimon Arigbabu of HEDA Resource Centre listed measures by which to address challenges, urging government to end the menace of insecurity across the country including terrorism and banditry, as well as diversifying the economy through massive investment in climate-smart agriculture that is built on equity and inclusion.
Besides climate-proofing the economy through investment in climate-resilient infrastructure in roads, energy, health, and manufacturing, Arigbabu wants climate policies driven through government procurements and incentive regimes. He also clamoured investment in knowledge and capacity building, and technology to bring about public awareness and behavioral change.
"There must be consultation among and across all spectrums of society on how to deal with climate change and its impact. Such consultations must pay attention to existing gender inequality and youth disenfranchisement," he said, clamouring for investment in weather forecasting, climate modeling, early warning systems, and access to accurate, timely, and effective climate information services delivery to farmers and other sectors of the economy.
Speaking on "Climate Change as Security Threat: Perspectives from the Sahel", Dr Freedom Onuoha of the University of Nigeria, Nsukka, Enugu State, noted that climate change remains one of the major challenges that states in the Sahel face.
He pointed out that its pathways as a security threat is manifested through altering food and water availability, increasing the risk of resource scarcity and associated conflicts, exacerbating the dynamics of forced migration and aggravating state fragility.
"The Sahel is known to be one of the most volatile regions of Africa, experiencing increased conflicts, violence, insurgency and terrorism as a result of climatic variations. Climate change is making an already bad situation worse, posing serious challenge to peace and prosperity. The likelihood and severity of the climate impacts in the region will depend on the evolution of the socioeconomic and political conditions that determine vulnerability and resilience."
To tackle the security challenges posed by climate change in the Sahel, he called on regional bodies such as the Economic Community of West African States (ECOWAS) and the Economic Community of Central African States (ECCAS) to prioritise commitment to preserving and restoring their forests, "in particular, ramping up action by to support the protection of rainforests, peatlands and other ecosystems, is a critical and viable pathway to keeping 1.5 degrees in reach".
"Absorbing around 1.5 billion tons of carbon dioxide in the atmosphere, or 4% of the world's emissions every year, Central Africa remains one of the only regions left in the world that absorbs more carbon than it emits. In addition, these forests play an important role in biodiversity conservation and millions depend on the free services these forests provide," he submitted.
He called on the Sahelian states to develop and properly resource national climate change mitigation and adaptation strategies, supported with a robust national plan of action.
"The articulation and implementation of a national 're-greening' initiative – the transformation of degraded landscapes into productive and resilient degraded landscapes into productive and resilient farmland through widespread adoption of agroforestry and related sustainable land management practices – should receive priority attention," Onuoha stated.