Lifting a moratorium against leases for coal mining on public lands will not create demand for coal as power companies continue to shift to natural gas and other energy sources, experts say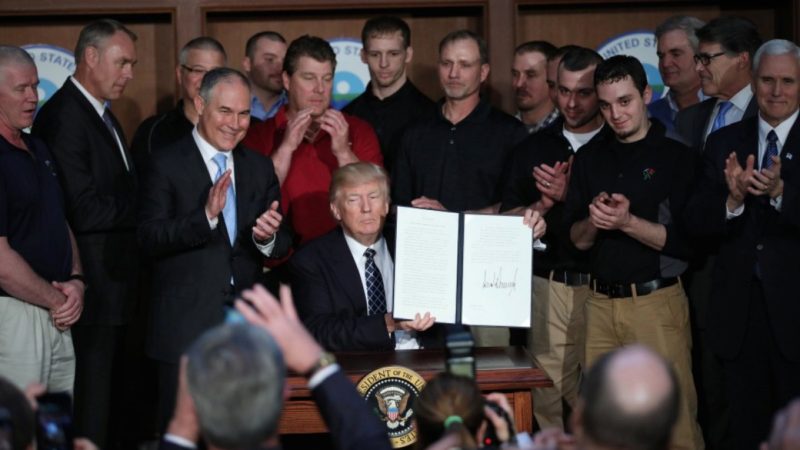 President Trump lifted a moratorium on federal coal leases on Tuesday, March 28, 2017 paving the way for excavation of a fossil fuel on public land in the West that few mining companies seem to want.
With coal miners gathered around him, Trump signed an executive order rolling back a temporary ban on mining coal and a stream protection rule imposed by the Obama administration. The order follows the president's campaign promise to revive the struggling coal industry and bring back thousands of lost mining jobs in rural America.
"I made them this promise," Trump said, "We will put our miners back to work."
But industry experts say coal mining jobs will continue to be lost, not because of blocked access to coal, but because power plant owners are turning to natural gas. At least six plants that relied on coal have closed or announced they will close since Trump's victory in November, including the main plant at the Navajo Generating Station in Arizona, the largest in the West. Another 40 are projected to close during the president's four-year term.
As power companies switch fuels, "the amount of coal in the national energy generation mix (both Fuels and Electricity Generation) has declined by 53 percent since 2006," according to a Department of Energy report released in January. Over the same period, electricity generation from natural gas increased 33 percent.
The shift was mirrored by employment, with jobs in natural gas and other cleaner energy resources rising and coal jobs declining, the report said. It cited a Bureau of Labor Statistics analysis showing that coal mining and support employment declined by nearly 40 percent between March 2009 and March 2016.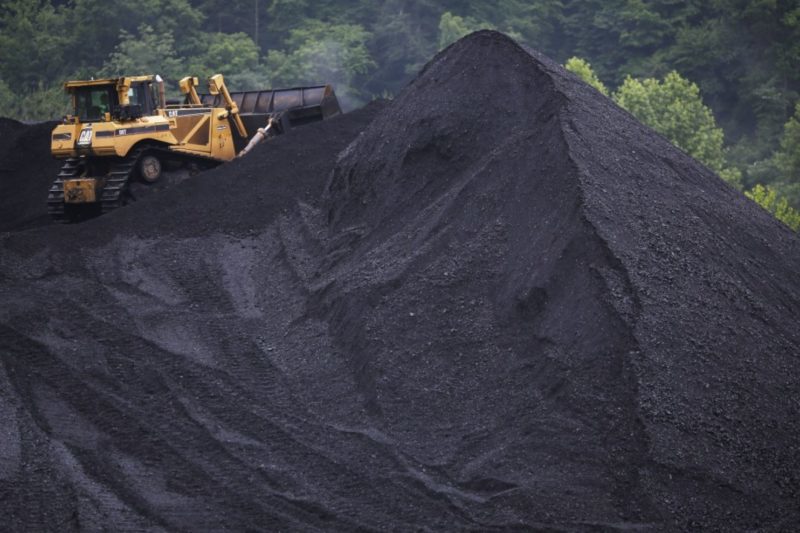 In this shaky financial environment, coal companies are struggling. Two of the largest, Contura and Arch Coal, emerged from bankruptcy only recently, and another giant, Peabody Energy, recently filed a reorganization plan for its path out of bankruptcy, according to the Institute for Energy Economics and Financial Analysis.
As Trump vowed to resurrect the coal industry and mining jobs in remarks at the Environmental Protection Agency, he promised to increase production of the resource that experts say is killing them. "We will unlock job producing natural gas, oil and shale energy. We will produce American coal to power American industry."
The IEEFA disagreed. "Promises to create more coal jobs will not be kept – indeed the industry will continue to cut payrolls," the group said in its 2017 U.S. Coal Outlook. "These losses will be related in part to the coal industry's long-term business model of producing more coal with fewer workers."
The industry has a fundamental problem it has not addressed even as businesses fail, the IEEFA said: "Too many companies are still mining too much coal for too few customers."
Coal has another problem that dogs power companies: health. Studies have shown that the risk of death from heart disease, including heart attacks, was five times higher for people who breathed pollution from coal emissions over 20 years than for those who were exposed to other types of air pollution. Burning coal releases fine particles with a potent mix of toxins, including benzene, mercury, arsenic and selenium.
The World Health Organisation (WHO) found that seven million people died from breathing air pollution in 2012, one in eight of the total number of global deaths. The 2014 study said air pollution, including coal, "is now the world's largest single environmental health risk" and that "reducing air pollution could save millions of lives."
In addition to enforcing a moratorium on leases, the Obama administration sought to protect water near mining sites by forcing coal companies "to avoid mining practices that permanently pollute streams, destroy drinking water sources … and threaten forests." That rule was also scuttled by a recent congressional resolution that the president signed.
The National Mining Association slammed Interior when the rule was imposed in December, saying Obama administration officials failed to engage mining states such as Wyoming, Montana and Nevada during its development, leading to a win for "extreme environmental groups and a loss for everyday Americans," said Hal Quinn, the association's president and chief executive.
He applauded the congressional resolution and Trump's signature demolishing a rule that placed "obstacles in the path of responsible mining and other necessary activities that depend on federal land while at the same time marginalising the participation of states and local stakeholders."
During the signing ceremony, Trump also touched on the resolution he signed. "We've already eliminated a devastating, anti-coal regulation, but that was just the beginning," he said. "My administration is putting an end to the war on coal, going to have clean coal, really clean coal."
Paul Bledsoe, a lecturer at American University's Centre for Environmental Policy, an Interior official under President Bill Clinton, called Trump's attempt at job creation "sheer nonsense." Coal's decline is too steep.
"No company will bid on new leases when there's already a glut of unwanted coal on the market," Bledsoe said. "Trump's false promise that he can bring back coal is really exposed as so much coal dust and mirrors by this executive order, since utilities will continue to use natural gas instead of coal."
By Darryl Fears, The Washington Post