Participants at a virtual dialogue held on Thursday, April 15, 2021, while articulating their understanding of green recovery, have called on the government of Nigeria and other African countries to chart the path towards effective recovery and resilience in their best interest.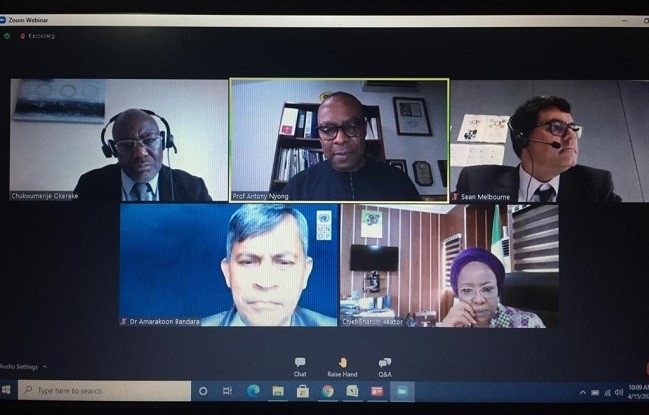 The experts in their various submissions at a virtual High-Level Dialogue themed "Promoting a Green and Resilient Recovery in Nigeria and the rest of West Africa" organised by the Society for Planet and Prosperity and the Centre for Climate Change and Development of Alex Ekwueme Federal University Ndufu Alike Ikwo (CCCD-AEFUNAI) submitted that Africa contributes minimally to emissions, but nonetheless hugely feels its impact on the continent.
They urged governments to focus on biodiversity protection through afforestation while reducing investment in energy – subsidy reform – and build resilient infrastructure that can stand the test of time.
Director, Climate Change and Green Growth, Africa Development Bank (AfDB), Prof. Anthony Nyong, posited that Africans know what to do and that not doing anything now is not a lack of knowledge, even as Covid-19 has shown that climate change has not been taken as priority.
According to him, the annual $100 billion pledged by the developed nations to developing countries to address climate change issues has never been fulfilled but that, within a year of the pandemic, several billions of dollars were released to address the health challenge.
He went further, "Africa should be given credit for contributing to the green recovery path, I believe green recovery is not just about reducing emission, it is about building resilient infrastructure, "he stressed.
The AfDB Director pointed out that poor countries are groaning under the weight of debt. "Africa is borrowing money to address problem they never created."
He added: "Millions of African young ladies are dying yearly; their crime is simply that they are trying to put food on their tables using charcoal or firewood.
"Africa should be given credit for contributing to the green recovery path; I believe green recovery is not about just reducing emission, it is about building resilience.
"A green transition is not just about reducing emissions, it is about building resilience and building the capacities of people so that while this is going on, they too can survive.
"The African ecological footprint report showed that the rate at which Africa is depleting it's biodiversity resources is alarming.
"Many African countries have already entered carbon neutrality. There are benefits for being low polluters, let's strive to remain low emitters."
United Nations University Institute for Natural Resources in Africa (UNU-INRA), Director, Dr. Fatima Denton, stressed that Africa needs to be very intentional about green recovery. She explained that green recovery is not going to be even and smooth but that it is in the best interest of Africa so that it will not be left behind.
"Africa does not contribute to emission as such, but the impact is felt. The impact is worse. You make it worst if the continent does not follow the green economy," she stressed.
Denton said Nigeria and other oil producing countries in the continent that flare gas can channel this to a productive use while at the same time develop climate-smart agriculture to reduce pressure on the land and planet.
She explained that lack of power supply maybe another driver of deforestation as people cut down trees for charcoal which is partly responsible for why Nigeria is the largest charcoal producer in Africa and second in the world.
The UNU-INRA Director pointed out that climate finance is also crucial to green recovery, adding that most of the pledges in the Nationally Determined Contributions (NDCs) submitted by countries require finance to execute them.
Former Chairman House of Representative Committee on Climate Change, Sam Onuigbo, said gas flaring has been a major source of concern to the House, assuring that the Petroleum Industry Bill (PIB) would capture it. He explained that the government is looking at the benefit of gas for domestic use which was why pipeline is being constructed from the Niger Delta to other parts of the country.
Asked on what the House is doing on the Climate Change Bill, the former chairman said the legislators are taking additional effort to ensure that all concerns were taken care off in the review of the Climate Change Bill so that it can have a smooth sail for the President to assent to it soon before COP26. He added that they are also making provision for climate finance, adding that climate change is about building resilience.
Onuigbo added: "We are working on the Climate Change Bill and, this time around, we are going to pass it.
"We have made sure that all stakeholders, including the Ministry for Women Affairs are a part of the process of amending the Climate Change Bill to make sure that it is passed this time around."
Head of Climate Change and Energy, West Africa, British High Commission, Sean Melbourne, said green recovery would generate jobs for Nigeria and other Africa countries. He explained that Africa really matters in terms of climate change.
On COP26, Melbourne disclosed that the conference needs strong national action and global collaboration that will focus on adaptation, mitigation and finance. He added that the conference would be inclusive.
United Nations Development Programme (UNDP) Nigeria representative, Dr. Amarakoon Bandra, said most African countries have tried to come out of the Covid-19 pandemic and address climate change but that the political support is not on ground. He stressed that the political support should go beyond plans.
Minister of State for Environment, Nigeria, Chief Sharon Ikeazor, said Nigeria and other Africa countries should look into nature-based solutions in economic issues and biodiversity, among others, in pursuing green recovery.
She stressed that the country should seize the opportunity from Covid-19 pandemic to recover from the damage done to build resilience.
The virtual dialogue was moderated by the Director CCCD-AEFUNAI, Prof. Chukwumerije Okereke. He thanked participants for making out time to honour the invitation.