Former Special Adviser to ex-President Goodluck Jonathan on Domestic Affairs, Waripamo-Owei Dudafa, has lost his bid to travel abroad for medical treatment before a Federal High Court in Lagos.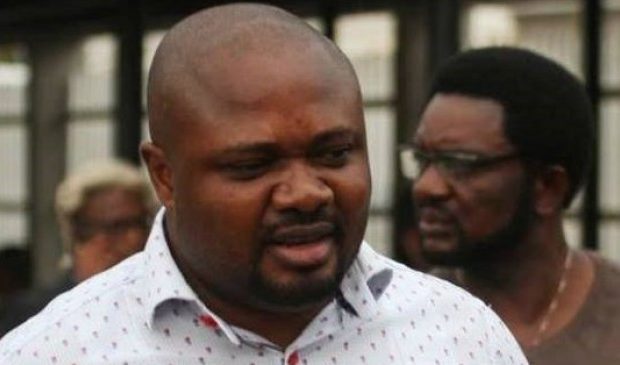 A vacation judge, Chuka Obiozor, refused to entertain his application to that effect.
Dudafa in the application urged the court to order the release of his passport to enable him to travel abroad to treat a spinal cord injury, which he allegedly sustained while being detained in the custody of the Economic and Financial Crimes Commission (EFCC).
Dudafa, who is being prosecuted for an alleged fraud of N5.1 billion, had earlier deposited his passport in the court's custody as part of the conditions attached to the bail granted him.
He, however, said he needed to urgently travel abroad for a medical appointment and urged the court to release the passport to him.
His counsel, Kolawole Salami, said the medical appointment was earlier scheduled for July 18 and 19, 2017 but had to be rescheduled for July 28, 2017 as Dudafa had yet to get access to his passport.
On Tuesday, July 18, 2017 he urged Justice Obiozor to hear and grant the application, saying the health of his client was at stake.
But the judge refused to entertain the application, saying he was not convinced that there was truly any emergency in Dudafa's case.
The judge argued that if there were truly an emergency, Dudafa would have ensured that Justice Mohammed Idris, who ordered him to deposit the passport, heard his application, which was filed since May before he proceeded on vacation.
Justice Obiozor rejected explanation by Dudafa's counsel that hearing of the application before Justice Idris was stalled due to the failure of the EFCC to respond to the application despite being served.
The judge said he would not be the one to release Dudafa's passport to him, and directed him to wait till October 16, 2017 when Justice Idris, who ordered Dudafa to deposit the passport, would have returned from vacation.
"Let him reschedule to October; he can reschedule to October," Justice Obiozor said while declining Salami's plea to hear the application.
The EFCC is prosecuting Dudafa before Justice Idris on 23 counts bordering on fraud and money laundering.
He is standing trial alongside his ex-account officer at Heritage Bank, Joseph Iwuejo, who was said to have aided him to perpetrate the alleged fraud. They have both pleaded not guilty to the charges.
In the charges, the EFCC alleged that, between June 2013 and June 2015, Dudafa and Iwuejo, who also claimed to be Taiwo Ebenezer and Olugbenga Isaiah, used different companies to fraudulently launder various sums of money running into N5.1 billion.
The EFCC listed some of the companies allegedly used by the accused persons as Seagate Property Development & Investment Limited; Avalon Global Property Development Company Limited; Pluto Property and Investment Company Limited; and Rotate Interlink Services Limited; Ibejige Services Limited; DeJakes Fast Food & Restaurant Nigeria Limited; and Ebiwise Resources.
By Chinyere Obia