A wildfire driven by California's dry, seasonal Santa Ana winds rapidly expanded to more than 12,500 hectares overnight outside Los Angeles, forcing widening evacuations on Tuesday, December 5, 2017.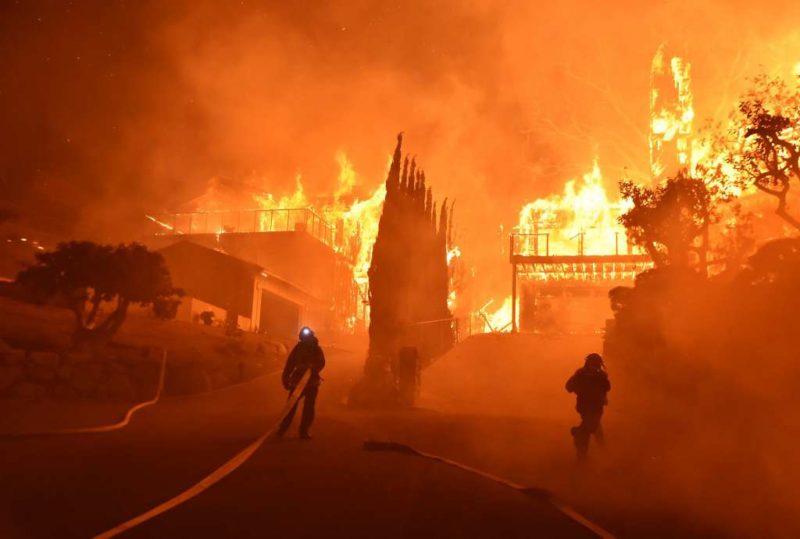 Authorities in Ventura County, on the Pacific Coast just north of Los Angeles, declared an emergency and said they planned to use fixed wing aircraft and helicopters against the "fast moving, active brush fire.''
The fire started north of Santa Paula and burned into the Ventura city limits, pushed by strong east winds.
The Ventura County Fire Department said that thousands of homes were being evacuated overnight in East Ventura.
"The fire is still out of control and structures continue to be threatened throughout the fire area," county emergency officials said in statement.
"Due to the intensity of the fire, crews are having trouble making access and there are multiple reports of structures on fire."
The blaze was being driven by what the National Weather Service called "potentially the strongest and longest duration" Santa Ana wind event of the current season.
The so-called devil winds blow out from Southern California's inland deserts toward the coast, typically during autumn, causing very low humidity and raising the risk of wildfires in the heavily populated coastal regions.
Power company Southern California Edison tweeted that about 180,000 households were blacked out in and around Ventura County, with another 83,000 without power further north in Santa Barbara County, with no estimate of when service could be restored.
Several school districts in the area cancelled classes, and the Ventura County Red Cross opened two shelters.