A Spanish missionary who contracted the Ebola virus while working in West became the first European to die from the disease on Tuesday, succumbing to the virus in a Madrid hospital five days after being evacuated from Liberia.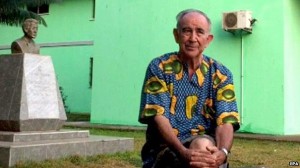 More than 1,000 people have died in Liberia, Guinea, Sierra Leone and Nigeria since the outbreak was first reported in February.
Miguel Pajares, 75, a Roman Catholic priest, was airlifted back to Spain from Liberia last week with a nun who tested negative for the virus.
For the past few days he had been treated with an untested, experimental drug, Zmapp.
"It is confirmed. He died at 9:28 am (0728 GMT)," said a spokeswoman for the Spanish capital's La Paz-Carlos III hospital.
"We hoped he would be able to overcome the disease but it was not to be. It is as God wished," the priest's sister-in-law Carmen Romo told Spanish radio station COPE.
A World Health Organization (WHO) panel in Geneva has meanwhile approved the ethics of using Zmapp.
According to the Reuters news agency, the panel said it was ethical to combat the Ebola outbreak by offering drugs or vaccines whose side-effects and efficacy had yet to be proven.
The priest was part of a Catholic order at St Joseph's Hospital in the Liberian capital, Monrovia.
The hospital has now been closed because of the outbreak.
A Congolese nun died there on Saturday, days after its director, Patrick Nshamdze, also died.
The hospital is run by the Juan Ciudad ONGD charity, established by a Spanish Roman Catholic order, the Hospitaller Brothers of St. John of God.
Its spokeswoman, Adriana Castro, told AFP on Monday that an earlier test had wrongly shown the late director of the Liberian hospital to be free of Ebola.