The European Commission has said it will review the protected conservation status of wolves in the European Union with a study launched on Monday, September 4, 2023.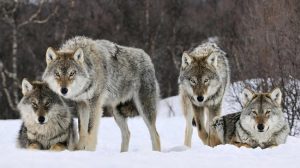 In some parts of Europe, wolf pack numbers have become a real danger for livestock and potentially also for humans.
European Commission President, Ursula von der Leyen, said this in a statement.
Von der Leyen has urged the local and national authorities to take action where necessary, stressing that the current EU laws allowed them to do so already.
"Where there is a clear danger, local authorities are allowed to permit hunting,'' von der Leyen said.
"I think this is an absolute right,'' she added.
The commission asked scientists, local communities and all interested parties across the EU to submit data on wolf populations and their impact by Sept. 22.
The aim of the data is to find where wolves pose threat and to use the collected data from across Europe to review the protected status of the animals, von der Leyen said.
The commission president said the review of the compiled data would be completed by the end of the year.
Currently wolves in the EU law received strict protection status with provisions allowing the local authorities to take action like shooting when conflicts arise with rural communities and farmers.
Famously, a wolf killed von der Leyen's favourite pet pony Dolly in an incident that was widely reported on in German media.