Polluter nations shop around for new fossil fuels as they block finance for vulnerable people and communities impacted by climate-induced loss and damage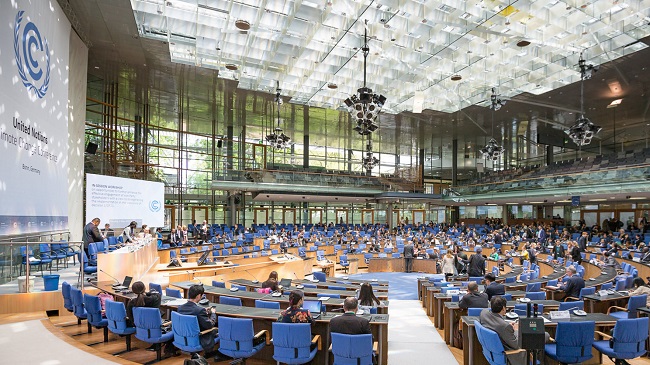 The Bonn Climate Conference appears to show the disconnect between the negotiation rooms and the reality on the ground of people suffering from the climate-induced loss and damage. Discussions across various issues seem to offer no new breakthroughs – on overall finance, adaptation and emission reduction actions.
This uncertainty and lack of leadership from rich polluters sets up challenges ahead of the G7 summit in two weeks, and in building trust before COP27.
Despite their reassurances from COP26 to take finance and addressing loss and damage seriously through the last two weeks rich countries, particularly the EU, Switzerland and the USA, consistently stalled progress on discussions on loss and damage on the Santiago Network on Loss and Damage and on putting loss and damage finance on the formal agenda towards getting an outcome on a loss and damage finance facility from COP27.
The stark warnings from the IPCC report earlier this year and recent climate catastrophes all around the world seem to have made no dent on the moral and political landscape of historical polluters. While countries like Germany shop around for new sources of fossil fuels in the context of a brutal war in Ukraine they refuse to commit to additional and scaled up finance to communities who have done the least to cause this climate crisis and are experiencing unavoidable impacts even at 1.2C.
Developing countries stood united in their demand for a loss and damage finance facility and ask for discussions on loss and damage finance to be on the agenda at COP27.
Chiara Martinelli, Director, Climate Action Network Europe, said: "People and the planet cannot afford the EU's irresponsibility and lack of ambition that we have witnessed over the last weeks in Bonn and at home. The EU completely misses the point of what it is to be a climate leader. The EU should stop blocking progress on loss and damage and increase finance for adaptation. European countries also urgently need to massively ramp up their climate and energy targets, rather than displace oil and gas from Russia with those from developing countries, further locking them into fossil fuels. That's what climate leader should do."
Eddy Pérez, International Climate Diplomacy Manager, Climate Action Network Canada: "Consumed by their narrow national interests, rich nations and in particular countries in the European Union, came to this Bonn Climate Conference to block, delay and undermine efforts from people and communities on the frontlines addressing the losses and damages caused by fossil fuels.
"The European Union and their allies tried to undermine people and communities, but they have not been able to silence the loud voices that rallied and organised to secure the adoption of a financial facility to tackle losses and damages by COP27.
"To these blockers, our message is clear: despite the dirty tactics, the momentum on loss and damage is unstoppable, and we will secure a COP27 outcome that gives hope and connects the needs of people and communities everywhere with the decisions governments take in this space."
Teresa Anderson, Global Lead on Climate Justice, ActionAid International: "With the climate crisis escalating every day, countries from the global south, representing six out of seven people on the planet, were united in their plea for funding to help them recover and rebuild in the aftermath of climate disasters. But rich countries, particularly the EU, spiked the discussion about loss and damage at every single turn. Whether it was about setting up a new finance facility, providing funds, organising technical support, or even just including the issue on the agenda for discussion at COP27 later this year, rich countries continued to block, block, block.
"At this very moment, 20 million people in the Horn of Africa are hovering on the brink of famine. There is a terrifying disconnect between the real world and some rich country negotiators who live in safe bubbles and feel able to turn their backs on the rest of humanity."
Harjeet Singh, Senior Climate Impacts Adviser, Climate Action Network International: "The EU consistently blocked discussions on finance for loss and damage in Bonn. The last two weeks exposed its hypocritical stance, with major countries like Germany sourcing new fossil fuels abroad while denying support to developing countries facing devastation from climate-induced superstorms and rising seas. If the EU wants to step up as a climate champion, it needs to align with the most vulnerable in their fight for justice."
Mark Lutes, WWF Head of Delegation, Bonn SB56: "We did not expect concrete outcomes at this stage. But it is already clear that the general lack of a sense of urgency, and the perennial conflicts and fault lines between Parties, threaten the rapid progress we need this year and this decade. Process must lead to action, and urgency must be at the centre of all actions and processes.
"Undelivered climate finance and action by rich countries is standing in the way of future action by all. Countries are falling back into old habits of holding one issue hostage to another issue dear to them. So, when some countries block progress on loss and damage finance and responding to increasing impacts of climate change, others block progress on mitigation."
Alden Meyer, Senior Associate, E3G: "People around the world are experiencing devastating climate impacts, ranging from heat waves and wildfires to flooding and extreme droughts. We are facing what many leaders correctly term an existential threat, but the urgency of the actions needed to address that threat – by shifting away from fossil fuels to clean energy and helping vulnerable countries cope with mounting climate impacts – was not on display over the last two weeks here in Bonn.
"It is now up to leaders and ministers to muster the political will to take bold, collaborative action to respond to the climate emergency. At their Elmau summit in two weeks, G7 leaders must respond to the clear call by developing countries to sharply scale up finance for loss and damage, and they should instruct their finance ministers to develop concrete proposals on how to fulfill their pledge made last December to help 'shift the trillions' for developing country decarbonisation.
"And at the Petersberg Dialogue next month, Germany and the incoming Egyptian COP presidency should engage ministers on ways to overcome the deep divides that were so evident here in Bonn on both loss and damage finance and crafting a strong mitigation ambition work program for adoption at COP27. Such actions taken at these two key meetings can go a long way to rebuilding trust amongst countries and assure a successful climate summit in Sharm-el-Sheikh."
Lien Vandamme, Senior Campaigner, Center for International Environmental Law (CIEL): "Just days after the Stockholm+50 UN Conference finally recognised the need to phase out fossil fuels, negotiators representing the wealthiest countries at the climate talks in Bonn resumed decades-long patterns of procrastination and inaction. The total lack of political will to deliver real solutions and finance for people and communities living the reality of climate impacts, breaches the obligations of these states to protect human rights including, the rights to water, food, health, and a healthy and sustainable environment.
"Developed countries must urgently come forward with credible finance commitments to address loss and damage and commit to immediately phasing out fossil fuels if they do not want to bear the responsibility of a collapse of the COP27 climate talks, in Egypt in November."
David Waskow, International Climate Director, World Resources Institute: "This UN meeting elevated the severe losses and damages that vulnerable countries face from climate change higher than any negotiations have before but failed to clarify how to address the problem. While developed countries acknowledged the need to address such damages, they rebuffed requests from vulnerable nations to work toward establishing a new funding mechanism.
"Perhaps the most decisive outcome from these talks is that developed countries now realise that the chorus calling for solutions to address loss and damage is only getting louder and that making concrete progress on this issue is a central measure of success for the UN climate summit in Egypt.
"Now the pressure is on for leaders to pick up the slack and use upcoming diplomatic gatherings to deliver the political momentum that is needed ahead of COP27. Key opportunities include the G7 Summit and Petersberg Dialogue.
"Heightened attention to growing impacts must also lead to stronger climate action across the board, from dramatically cutting emissions and protecting forests to providing support for vulnerable countries facing the increasingly severe consequences of an overheating world.
"At Bonn, countries did move the ball on a process to assess countries' collective progress to tackling the climate crisis, known as the Global Stocktake. If done right, the Global Stocktake could culminate next year with countries agreeing to new political commitments that deliver breakthrough climate solutions across sectors, access to finance and more.
"The benchmarks for success for COP27 are now coming into focus. It is vital for major emitters to strengthen their targets and for developed countries to demonstrate solidarity with vulnerable nations by implementing their emission reduction targets and rallying behind financial support to address loss and damage, build resilience to climate impacts and accelerate a just transition to cleaner sources of energy. The world will also be watching to hold countries, businesses, cities and others accountable for the stunning number of commitments profiled at COP26 last year."
Cat Pettengell, Director, Climate Action Network UK (CAN-UK): "The majority world – suffering the worst impacts of climate change – came to COP26 in Glasgow with a clear demand for a finance facility to address loss and damage from climate change. Despite the urgency, progress was blocked. This cannot happen again at COP27, yet higher income countries have continued to block and failed to make the progress needed here in Bonn. Those least responsible for the climate crisis are paying the highest costs, and this injustice must end now."
Aurore Mathieu, International Policy Coordinator, Climate Action Network France: "Bonn negotiations once again highlight the huge disconnect between the urgency of the climate crisis and the inability to progress on concrete outcomes to respond to it. Climate impacts are worsening throughout the world, hitting the most marginalised communities, and rich countries are still refusing to acknowledge their climate debt by providing finance for loss and damage. France, as the President of the EU Council, lacked leadership to ensure a constructive European position on these issues."
Susann Scherbarth, Head of Climate Justice, BUND/ Friends of the Earth Germany: "Germany has a hell of an agenda next week when leading the G7 Summit from 26-28 June in the South of Germany. We urge G7 leaders to take clear action – and not just empty promises – and follow what civil society around the world is demanding: an equitable end to fossil fuels and get back on track to a 1,5-degree climate just pathway to limit devastating climate impacts around the world.
"After two weeks of talks in Bonn the hope faded away to get clear commitments by rich nations to adequately finance impacts of the climate crisis. Finance in trillions is urgently necessary for mitigation, adaptation and loss & damage. We do not talk about technical numbers here; we actually talk about lives and deaths around the world. The plan to have a well prepared COP27, happening later this year in Egypt, failed."
Collin Rees, Programme Manager, Oil Change International: "The hypocrisy and obstruction from rich countries in Bonn is deeply disappointing. Mere months after key commitments in Glasgow by major polluters to phase out international public finance for fossil fuels, these same nations are aggressively pressuring African and other Global South countries to build long-lived fossil fuel infrastructure the planet can't afford. Rich polluting nations are also refusing to pay up for devastating climate-induced loss and damage. The gap between what's being discussed, and the bold action needed to phase out oil, gas, and coal and fund an equitable transition is larger than ever. We need a drastic increase in ambition and real support from rich countries at the G7 summit and at COP27 in November."
Mattias Söderberg, Climate Advisor, DanChurchAid: "While workshops and dialogues indicated that parties begin to understand each other's concern, this was not reflected in the actual negotiations. We leave Bonn with a very tiny result, as all important discussions were pushed to COP27.
"Parties should never forget that these negotiations are about people, and their lives. We can only solve the climate crisis if we work together. Lack of progress is therefore disappointing, and it will delay climate action.
"The most frustrating part of the Bonn session is the difficulty to agree on how to move a dialogue about how to address loss and damage, into clear decisions at the COP, which can deliver concrete results."
Azara Remalia Sanogo, Climate Justice Coordinator, Oxfam West Africa: "Adaptation financial needs are far from being met. In West Africa Region, for example, despite making up 4.4% of the global population, WAS nations emit only 0.51% of the current global emissions. These countries are facing an adaptation gap of 83% as compared to their reported adaptation needs in their NDCs. Despite their high level of vulnerability and low level of readiness, West Africa Countries are receiving considerably less adaptation than is fair."
Sven Harmeling, Global Policy Co-Lead for Climate Change and Resilience, CARE International: "The Bonn UN climate talks were meant to lay the groundwork for an ambitious and fair COP27 outcome. But countries have hardly progressed on the critical work programme on mitigation to stay within the 1.5°C limit and breaching this limit would have disastrous consequences for vulnerable populations across the planet. Concerningly, it is also not secured that COP27 will deliver a much-needed new facility for funding actions to address loss and damage from climate impacts. This loss and damage facility is critical to help affected people, in particular women and girls, to manage the increasingly harsh impacts of climate change. It is shameful how developed countries blocked agreement on securing a place on the COP27 agenda for this matter."
Catalina Gonda, Climate Policy Co-Coordinator, FARN Argentina: "It has been quite frustrating to see developed countries, once again, deliberately boycott discussions on adaptation and financial support for the most vulnerable people. Latin America and the Caribbean is already suffering tremendous and irreversible damages from climate disasters. Communities all over the region are being displaced, inequalities are being exacerbated, and critical ecosystem services supporting millions are being lost. We need real leadership and signals from rich countries that COP27 won't be another talk shop, but a moment when concrete solutions and a finance facility to address climate impacts are finally delivered."
Mary Friel, Climate Justice Lead, Christian Aid: "Once again we see the huge disconnect between the negotiations and the urgency of action needed. Right now, it is people, communities and the most climate vulnerable who are being hit the hardest, who did the least to cause the crisis, yet are bearing the costs for loss and damage. Richer countries need to pay up. We were making some progress on loss and damage but rich countries stalled action being made here, kicking the can down the road to COP27 with no certainty on how loss and damage will be reflected on the COP agenda. There's no time for warm words, there has to be action which will provide real financial help for the people living on the front line of the climate crisis."
Landry Ninteretse, Africa Regional Director, 350.org: "Africa contributes the least to the global greenhouse gas emissions but suffers the most from the devastating impacts of climate change, which come at a high cost for these vulnerable nations. It is therefore appalling to witness attempts by representatives of developed nations to block climate reparations that would require them to pay for the damage caused by their polluting practices. Meanwhile, they are seeking to explore new sources of fossil fuels on the continent. Ahead of COP27, we are calling for climate action that caters to the most vulnerable to climate change. Developed nations should and must pay for damage caused and support the recovery of African nations."
Rebecca Hubbard, Programme Director, Our Fish: "Despite taking the significant and welcome step of organising the first annual ocean climate dialogue, the UNFCCC must urgently navigate the long route from acknowledging the ocean's role in climate action to mapping how we can fully harness the power of the ocean in the fight against climate change. There was active participation in the Dialogue, with input from many countries on their commitments to decarbonise shipping and fishing, enhance protection of coastal and marine ecosystems, acknowledge the importance of sustainable fisheries, and to increase finance and support for developing a roadmap for further ocean climate action.
"We now need to integrate and strengthen ocean-based action in other existing UNFCCC processes and workstreams, which includes encouraging and supporting countries to integrate ocean actions in their Nationally Determined Contributions, National Action Plans and the Global Stocktake."
Nithi Nesadurai, Director & Regional Coordinator, Climate Action Network Southeast Asia: "The negotiations here at SB56 have been problematic. Various Parties from the Global North have been quick to block discussion on issues crucial for the Global South including Loss & Damage. In addition, given the ongoing expansion in fossil fuel infrastructure around the world, particularly in Southeast Asia, which will affect the 1.5C limit goal, the painstakingly slow progress on key issues including mitigation, showed that Parties were out of touch with reality."