Forty one-year-old Robert Kirotich was on Tuesday, January 16, 2018 reportedly shot by EU-funded guards working for the Kenya Forestry Service. Another wounded man, David Kipkosgei Kiptilkesi, was taken away by the guards and his condition said to be unknown.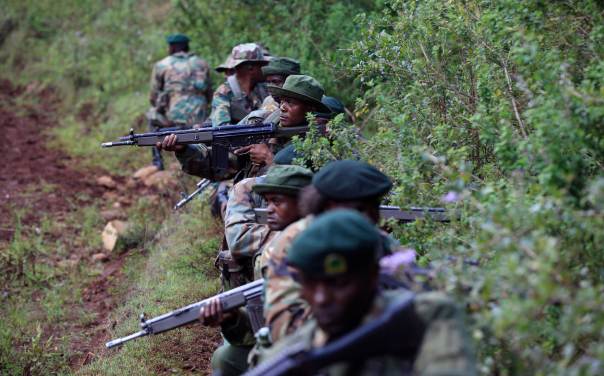 At 2pm on Tuesday, Robert Kirotich was said to be herding cattle in Kapkok Glade, in the Embobut Forest area of the Cherangany Hills in west Kenya when he was attacked by a group of around 40 guards working for the Kenya Forestry Service (KFS). He was shot and killed and his body was retrieved by community members at 6.30pm same day, the Forest Peoples Programme (FPP) disclosed in a statement .
On Christmas Day, guards employed by the KFS entered Sengwer lands and forcibly evicted them, supposedly in the name of conservation. After evicting them, they set fire to their homes. The violence was one of many forced evictions that the community has endured and they have continued, on 29 December, 1 January, and right up to today. On January 4, the Sengwer held a press conference, calling for change for the new year.
Three UN Special Rapporteurs this week wrote to the EU urging them to suspend funding to the WaTER Project. John H. Knox, Special Rapporteur on the issue of human rights obligations relating to the enjoyment of a safe, clean, healthy and sustainable environment; Michel Forst, Special Rapporteur on the situation of human rights defenders; and Victoria Tauli-Corpuz, Special Rapporteur on the rights of indigenous peoples, jointly said: "We call on the Kenyan authorities to urgently halt the evictions of Sengwer community and undertake impartial investigations of these attacks. Furthermore, we urge the European Union to suspend funding for the project until measures have been taken to uphold international standards on indigenous peoples' rights."
The guards are working for the EU-funded Water Towers Protection and Climate Change Mitigation and Adaption (WaTER) project, a  €31 million programme which states its aim as being to help eradicate poverty through improving the productivity of ecosystem services in two of Kenya's five water towers.
Another Sengwer man, Paul Kitum Kiptuga, was reportedly shot at while at home a week ago. He said: "At around 12.30 noon, about 10 KFS guards arrived at my home. At that time there was a community member who was living nearby who saw the KFS rangers coming towards my home and called loudly that KFS are coming, you must run as fast as possible. I left everything and ran.
"At 300 metres from my home, the KFS guards saw me. As I was escaping I looked back to see how near they were. At that moment I saw them about to shoot and heard the gun shot and the bullet fly past me.
"After the first shot, they were shouting at me to stop and others were shouting 'kill him, kill him, kill him'. Another live bullet came past me and then I managed to enter the forest. I heard the last shot as I disappeared into the forest and crossed the stream which slowed them down as they tried to chase me.
"Then the KFS guards went back to my homestead and I climbed to a higher place to be able to see what they were going to do next. I could see them clearly collecting some paper and blankets and other things to put into my house before setting fire to it."
The Sengwer are calling for the EU WaTER project to be stopped. They applaud its aim of seeking to protect the forests but they state that funding a government agency – KFS – that acts so inhumanely, with no interest in human rights or conservation, is a way of destroying the very community that depends on and cares for their ancestral lands, Embobut forest.
Milka Chepkorir Kuto, a Sengwer woman, said: "How many of us will have to die for the EU to listen?"
Yator Kiptum, a Sengwer leader, said: "The EU must act now by cancelling the WaTER Project. How many Sengwer must be killed by the KFS guards before the EU listen to the voiceless members of the Sengwer indigenous peoples, who are trying to live peacefully on their ancestral lands?"
Violence against the Sengwer has taken the form of forced evictions, arbitrary arrests, the burning of their homes, and violence, it was gathered.
Article 63.2.d.ii of Kenya's Constitution acknowledges the right of indigenous peoples to control and management of their land.
From 2007 to 2013 the World Bank funded the Natural Resource and Management Project (NRMP) in Embobut forest, which resulted in years of forced evictions of the Sengwer people. Despite this, the EU began funding a project in the same area. The WaTER Tower is a six-year  €31 million project that began in June 2016, and is set to run into 2020.
Kenya Forestry Service is Government agency that oversees development and management of forest resources in the country.