The European Union is financing the construction of model public toilets in 14 small towns in Ekiti West and Gbonyin Local Governments, Ekiti State, under its Water Supply and Sanitation Reform Programme (WSSSRP) III.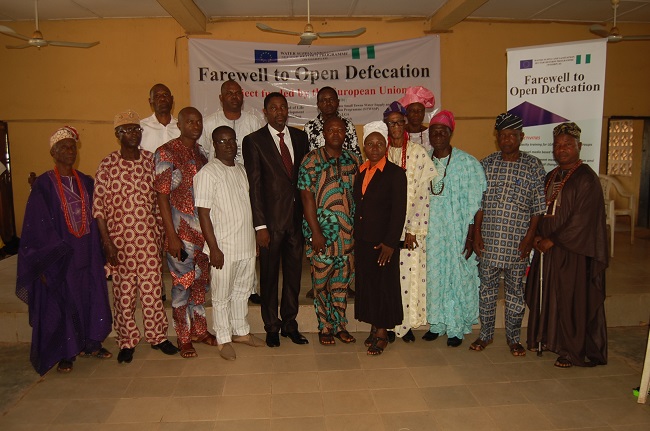 The project, titled: "Farewell to Open Defecation", is being implemented by Bread of Life Development Foundation in collaboration with the Ekiti State Small Towns Water Supply and Sanitation Programme, Gbonyin Local Government, and Ekiti West Local Government.
Ekiti State has a safe sanitation coverage of 32% in rural and small towns, and 38% in urban towns; open defecation which is 68%, is the highest in the southwest Nigeria according to State Water, Sanitation, and Hygiene (WASH) policy. In Gbonyin local government, a UNICEF 2014 survey shows that 92% of the communities are without public latrines; and in Ekiti West local government, 124 communities do not have any form of public latrines, according to the Ekiti West WASH profile 2014 report.
"Farewell to Open Defecation" will reduce open defecation in Ekiti State and its associated health effects; generally increase living standards; improve economic livelihoods through jobs and income creations; reduce economic losses due to incidences of diseases caused by poor sanitation and safe water; and result in safe sanitation behaviours, and safe hygiene practices in 14 small towns in Gbonyin and Ekiti West LGAs, Ekiti State.
The overall objective of the project, whose contract is already signed by the the contracting authority – National Authorising Officer/The Honourable Minister for Budget and National Planning and the European Union Delegation to Nigeria on April 29, 2018, is to strengthen  water and sanitation (WASH) governance institutions; increase prioritisation and funding of WASH sector by public and non-public actors; and  increase access to sustainably managed, safe Sanitation WASH facilities  in 14 Small towns in Gbonyin and Ekiti West Local Government Areas (LGAs), Ekiti State.
"Farewell to Open Defecation" is a WASH governance and service provision project, mobilising stakeholders for effective WASH management, and sustainably increasing access to safe WASH services through construction of Sanitation Demonstration Units (SDUs) in 14 Small towns, Gbonyin and Ekiti West Local Government Areas (LGAs), Ekiti State.
The project will result in the construction of modern public toilets in 14 small towns in Ekiti state between October 2018 and May 2019. The benefitting towns are: Iluomoba, Agbado, Egbe, Imesi, Ijan, Aisegba, and Ode in Gbonyin LGA; and   Erio, Ido-Ile, Ipole-Iloro, Aramoko, Oke Imesi, Erinjinyan and Ikogosi in Ekiti West LGA.
The public toilets, also known as integrated Sanitation Demonstration Units (SDUs), will be constructed in either a motor park, bus stop, garage, or market place; and comprise two blocks of three compartment pour flush toilets, urinals, handwashing facilities, bathing room, laundry, car wash, a sani centre, solar powered motorised borehole, and three prepaid meter public water standpoints.
The project will also support the Sanitation Task Groups in the two LGAs to discuss and address WASH governance issues particularly policy, regulatory, legal, institutional, and financial framework for accelerated access to safe sanitation ; facilitate several media based high level advocacy to key public and non-public service providers towards prioritising sanitation and mobilising financial resources for safe sanitation  in the two LGAs; support the two LGAs Sanitation Task Groups to organise WASH public enlightenment  meetings quarterly; and mobilise community leaders in the LGAs on strategies of accelerating safe sanitation and hygiene practices in the 14 small towns.
The constructed public toilets will be handed over to Public Toilet Management Committee (PTMC) for sustainable management, while Private Operators will be locally recruited to suitably operate and maintain the Public toilets through innovative public contracts. The public toilets will be operated using a business model, and revenues realised from user charges will be deposited in a Sanitation Revolving Fund, which is a financing mechanism for development of sanitation infrastructure in the small towns, at household and institutional levels.
A project launch was recently held in Ode Ekiti, Gbonyin Local Government and in Aramoko Ekiti, Ekiti West Local Government, to flag-off activities.