Lake Turkana National Parks in Kenya was placed on the List of World Heritage in Danger on Thursday, June 28, 2018 at UNESCO's World Heritage Committee meeting, due to impacts from the Gibe III dam. The decision follows the recommendation of the International Union for Conservation of Nature (IUCN) – the Committee's advisor on nature.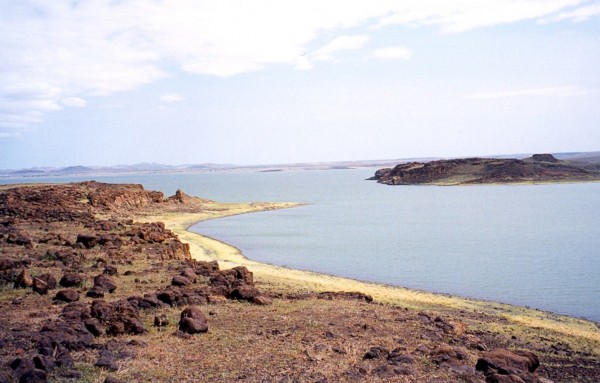 According to IUCN, water levels have rapidly declined downstream of the Gibe III dam, located in Ethiopia, since its reservoir started to be filled in January 2015. This has disrupted seasonal changes to water flows into Lake Turkana – the largest desert lake on Earth – with likely knock-on effects for wildlife and fish stocks which local communities depend on.
"Kenya's Lake Turkana World Heritage site is in grave danger of losing its exceptional values if action is not immediately taken to reduce the impacts of the Gibe III dam and stop all other detrimental development," says Peter Shadie, IUCN Adviser on World Heritage. "People depend on the lake and it is our collective responsibility to mobilise the necessary resources to support them by protecting the site."
Composed of three protected areas, Lake Turkana National Parks was inscribed as a natural World Heritage site in 1997 for their outstanding natural values. The site provides breeding habitats for hippos and Nile crocodiles, and hosts over 350 species of fish and birds. The lake is the most saline lake in East Africa, surrounded by an arid, seemingly extra-terrestrial landscape.
IUCN has been raising concerns over the Gibe III dam's devastating consequences for Kenya's Lake Turkana National Parks since the project first came to its attention in 2011. Following IUCN's advice, the World Heritage Committee has repeatedly requested an assessment of the dam's environmental impacts on the site's outstanding values. However, such an assessment has not been undertaken.
The construction of the Gibe III dam went ahead and is now the second largest hydroelectric plant in Africa, at 243 metres in height. Filling its reservoir is expected to take three years.
Following IUCN's advice, the World Heritage Committee also urged Ethiopia to halt the development of the Kuraz sugar project upstream from Lake Turkana. Should this project proceed, the factory will likely increase water consumption from the Omo River, which is the most important source of water for Lake Turkana. Its potential impacts on water flow and quality in the area, as well as on the values of the World Heritage site, have yet to be fully assessed.
UNESCO's World Heritage Committee meeting is taking place in Manama, Bahrain from June 24 to July 4. This year, IUCN has provided advice on 58 natural World Heritage sites facing threats.
Natural World Heritage sites are globally recognised as the world's most important protected areas, inscribed on the UNESCO World Heritage List for their unique natural values, such as the scale of natural habitats, intactness of ecological processes, viability of populations of rare species, as well as exceptional natural beauty. About one in five World Heritage sites is natural.
IUCN is the advisory body on nature to UNESCO's World Heritage Committee. Working closely with IUCN's World Commission on Protected Areas (WCPA), IUCN evaluates sites nominated to the World Heritage List, monitors the conservation state of listed sites, promotes the World Heritage Convention as a leading global conservation tool, and provides support, advice and training to site managers, governments, scientists and local communities.