The Grand Riviera, a popular three-star hotel in Awka, Anambra State, is facing imminent collapse due to gully erosion occasioned by rainfalls, the News Agency of Nigeria (NAN) reports.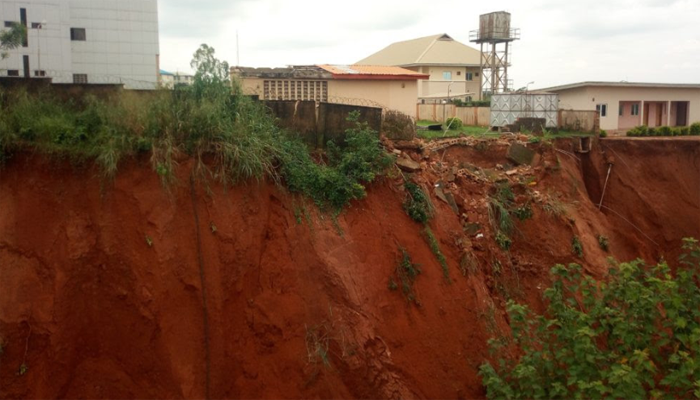 The hotel, the Anambra High Court which is beside it, and the Federal High Court which is a few metres away, are all being threatened by erosion.
NAN reports that the Federal High Court has already lost part of its premises to the erosion and two other buildings are seriously threatened by the environmental challenge.
Mr Tagbo Igboka, the manager of the hotel, said that gully erosion started washing away the foundation of the 12-year-old hotel only about two years ago.
Igboka said the hotel's management had spent not less than N20 million on erosion control and repair works since the "unwanted visitor" started encroaching.
"This is a very popular hotel in Awka. Two former presidents have lodged here including former governors and ministers but, as you can see, erosion is threatening to destroy it.
"This monument has served for 12 years, but we have battled this menace for five years and spent no less than N20 million to prevent the worst from happening.
"We have received high-powered delegations on inspection here; people from the Federal Ministry of Environment, the ecological fund and even our own state ministry of environment have visited.
"However, there has not been any intervention to mitigate the threat from them. The entire buffer you see here, even this one that recently gave way, was done by us.
"Yet as a corporate organisation, we have been paying our dues to government," the manager told NAN.
Igboka noted that the problem was caused by a particular erosion channel which had made the entire zone a "disaster area".
He said that if the channel was linked to the Imoka River, the problem of erosion would be solved.
The manager expressed the fear that the hotel, which is valued at hundreds of millions, would become rubbles at the onset of another rainy season if nothing was done about the challenge.
Igboka called on the federal and the state governments to speedily intervene to control the menace to prevent an avoidable predicament turning into a disaster.
By Chimezie Anaso