Considered as the way forward for Nigeria's power sector, Environmental Rights Action / Friends of the Earth Nigeria (ERA/FoEN) gathered key stakeholders in Nigeria's environment and power industries to discuss "Post-Extractivism: Energy Transition for National Development". This was the theme of the organisation's 11th Annual National Environment Congress holding in the Rivers State capital city of Port Harcourt from November 27 to 28, 2018.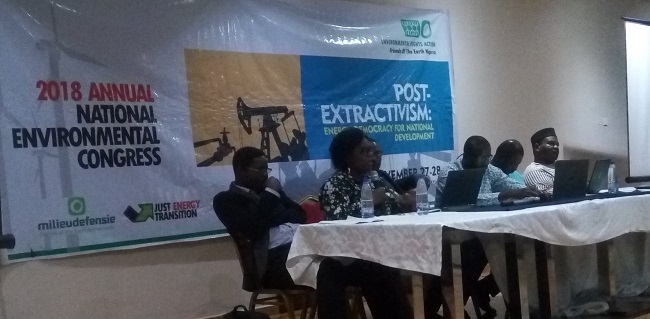 Provoked by the global responses to climate change and rising earth temperature, the congress aimed to work towards a national commitment for the adoption of energy transition from fossil fuels to renewable and to ensure development pathway and global average temperature stays within 1.5 degrees Celcius.
The ERA/FoEN Executive Director, Dr. Godwin Uyi Ojo, said: "Nations all over the world have declared that 2020 and 2025 will be fossil free but, in Nigeria, we are yet to start because there is no declaration on the part of the government. We think electricity should be decentralised in the energy sector to create greater energy access should be democratised.
"It is believed that the way forward is to be consistent and agree that there is the need for energy transition. There is a need to move away from extractives to renewable energy. There is a need to move from fossil fuels to renewable sources of energy."
Presenting the "Just Energy Transition" manifesto for Nigeria at the opening of the congress, Dr. Ojo called on the Federal Government to, as a matter of urgency, embrace energy transition.
He said: "Fossil fuels are dirty, expensive and kills our people almost daily. There is the need for transition from dirty energy to renewable energies such as solar, wind and fuel-efficient cook stoves to promote energy access for all in line with the Sustainable Development Goal (SDG) 7.
"To avoid energy colonialism, the Nigerian and African government should adopt a deliberate policy for energy democracy and transition from fossil fuels to renewable sources."
Dr. Ojo further called for a ban on generating sets in all MDAs at the Federal, State and Local Government levels.
He disclosed that, since 1993, the organisation is dedicated to the defence of human ecosystems in terms of human rights, and to the promotion of environmentally responsible governmental, commercial, community and individual practice in Nigeria through the empowerment of local people.
The congress helds few days before the 24th session of the Conference of the Parties (COP24) to the United Nations Framework Convention on Climate Change (UNFCCC) holding in Katowice, Poland from December 2 – 14, 2018.
By 'Seyifunmi Adebote, Port Harcourt