The Environmental Rights Action/Friends of the Earth Nigeria (ERA/FoEN) has blamed Nigeria's reliance on fossil fuels for the unrelenting oil spill-related incidents across the country, the recent one involving over 50 persons incinerated when a pipeline belonging to the Pipelines and Product Marketing Company (PPMC) in Umuode Community in Aba, Abia State, exploded.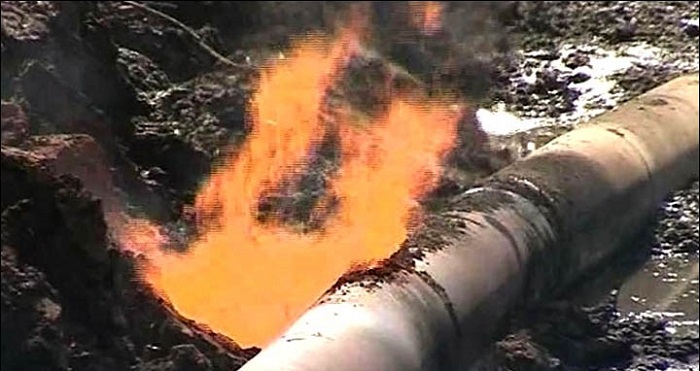 The incident occurred at Umuimo and Umuaduru villages in Osisioma Ngwa council area of the state when a pipeline said to have been abandoned by the PPMC for about three years was suddenly used to pump fuel, leading to leakages that residents of the area swooped on to meet their needs.
Spokesperson of the Nigerian National Petroleum Corporation (NNPC), Ndu Ughuamadu, had turned the blame on residents whom, he claimed, tampered with oil facilities.
But ERA/FoEN in a statement issued in Lagos on Thursday, October 25, 2018, said that it was unfortunate that the NNPC and other oil industry agencies dodge responsibility and continue to give excuses whenever their ill-maintained facilities leak and cause havoc to man and the environment.
ERA/FoEN Executive Director, Godwin Uyi Ojo, said: "With every oil spill incident and the weighty costs, it is now evident that the lives of our people mean nothing to the Nigerian government in its unsustainable wedlock with a fossil-fuels dependent economy. This, like previous incidents, confirms the assertion."
Ojo explained that, with Nigeria's refusal to muster the political will to transit from fossil fuels, it will be left behind as more and more countries embrace and make phenomenal inroads into renewables that have proven to be safe, environment-friendly, and becoming readily accessible.
"Starting with the Jesse fire disaster in Delta, to Abule Egba, Atlas Cove and Ijegun in Lagos, Arepo in Ogun and those happening across the Niger Delta, thousands have lost their lives, and it would seem the government has not learnt any lessons. The waste of the lives of our people is simply unexplainable in the light of evident alternatives," said the activist.
He frowned at reports that the PPMC failed to mobilise to Umuimo and Umuaduru villages many months after locals alerted about the inherent dangers of the leaking fuel, stressing that the NNPC and PPMC are only interested in putting up self defense in their public statements, at the expense of lives.
"The time for cheap talk is long past. Every life counts. The spills, explosions and deaths will only stop when Nigeria weans itself of fossils and leapfrog into the renewable's regime. The environment will be the better for it, our people will be safe and economic growth will be assured. Unless we explore this path, this unfortunate situation will continue," Ojo stated.