For the umpteenth time on Saturday, May 31, 2014, residents of Okun Alfa Community by the Alpha Beach along the Lagos coastline on the Lekki Peninsula, Eti-Osa Local Council, were inundated by flood waters from the Atlantic Ocean. The water intruded into their homes and businesses, rendering some homeless and stranded.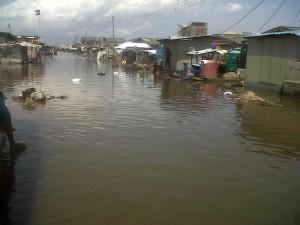 Flooding has always been a challenge faced by Lagos State but it seems to have become more intense in recent years. Many attribute its intensity to rising sea level caused by melting ice sheets in the polar regions, but another school of thought believes the situation in Lagos is worsened by the Eko Atlantic City Project, which has faced local and international criticisms.
The recent flooding at Okun Alfa was quite significant as the thigh-level water consumed  about 95 percent of houses on Baale Street. Human waste sipped out and mixed with the flood water, even as animals scampered for safety.
Residents who could afford to move packed out hurriedly, while the poor ones looked  on helplessly with anger and frustration written all over their faces.
I am a regular visitor to the community whenever such incident happened but, this time around, they seemed tired of granting interviews and sharing their pains as they believed nothing would come out of it. Many children slept on platforms elevated above the flood and I shuddered to think of the health implication if anyone of them accidentally fell into the heavily polluted water.
The community used to host the once popular Alpha Beach that attracted fun seekers and tourists at weekends, public holidays and festive periods. But this tourist destination has lost its attraction, no thanks to increasing sea level rise and a devastating shoreline erosion.
Community leader, Alhaji Yusuf Atelewora, said the neighborhood has witnessed increased shoreline erosion in the last four years and that all promises made by both federal and state governments were yet to be fulfilled.
"Many government officials have been to Okun Alfa, but all we hear are promises of this and that but our condition is not any better. Do you know even President Goodluck Jonathan came here? We were happy when he visited. But years after nothing tangible has been done. From my own side, I can tell you that since sand filling increased around the Bar Beach area (an apparent reference to the Eko Atlantic City land reclamation scheme), erosion has also increased on our shoreline. I pray one day we don't wake up inside the sea," he lamented.
Consequent upon the Due to the erosion, electrical poles are no longer standing and the only health centre in the community is in ruins. The community is in complete darkness even as underground water is contaminated.
According the Dr. Chubuike Wokocha from the University of Port Harcourt in Rivers State, many coastal towns and communities may no longer be in existence in 10 years' time due to increasing sea level rise as a result of climate change.
Lagos State Commissioner for the Environment, Tunji Bello, said efforts to reduce shoreline erosion in Okun Alfa is capital intensive and the state would require support from the Federal Government. He added that the state government has been working to ensure that the impact on communities like Okun Alfa is reduced and plans were on to re-align the drainage of the community backwards toward the Lagos Lagoon.
The Fifth Assessment Report of the Inter-governmental Panel on Climate Change IPPC report state the following: "Due to sea-level rise projected throughout the 21st century and beyond, coastal systems and low-lying areas will increasingly experience adverse impacts such as submergence, coastal flooding, and coastal erosion (very high confidence). The population and assets projected to be exposed to coastal risks as well as human pressures on coastal ecosystems will increase significantly in the coming decades due to population growth, economic development, and urbanisation (high confidence).
"The relative costs of coastal adaptation vary strongly among and within regions and countries for the 21st century. Some low-lying developing countries and small island states are expected to face very high impacts that, in some cases, could have associated damage and adaptation costs of several percentage points of GDP."
With such a damming report from the IPPC, Okun Alfa community needs government's prompt intervention as an epidemic looms due to the pathetic sanitary conditions there. A thought for those poor, helpless children.
By Tina Armstrong-Ogbonna