An environmentalist, Mr Gafar Odubote, has called for the adoption of Climate Smart Agriculture (CSA) practices to reduce the prevalent greenhouse gas emissions in the atmosphere from agricultural activities.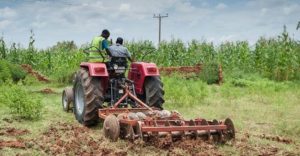 Odubote, the Network Coordinator, Let's Do It World (LDIW) Africa region, made the call in an interview on Friday, March 18, 2022, in Lagos.
The CSA is an integral approach to mitigate climate change and adapt to its consequences without compromising food security.
The expert said the application of CSA by local farmers will help address climate change effects and  increase food production in the country.
According to him, CSA is also about applying innovative techniques on improving cultivation of crops and livestock amidst climate change issues.
"CSA also involves internationally accepted best practices in agriculture that protect the environment and increase productivity.
"Agriculture activities around the globe contribute immensely to the amount of greenhouse gas emissions in the environment.
"It contributes about 18 to 19 per cent of greenhouse gas emitted annually.
"That is why governments across the world, policy makers and agriculture stakeholders are interested in how we can reduce greenhouse gas emissions through agricultural sector.
"What adoption of CSA techniques will do, is to reduce the residue of harmful gases released into the atmosphere from agricultural waste and activities," Odubote said.
In addition, he said the use of some agrochemicals in the cultivation of crops results in production of nitrogenous substances into the atmosphere which further depletes the ozone layer.
"A lot of inorganic fertilizers used during crop cultivation cause a lot of pollution in the environment and an adverse effect on climate change.
"The chemical composition of some of these fertilisers is very high, so CSA practice will involve the use of organic fertiliser to prevent the constant emission of greenhouse gases.
"We need to dissuade local farmers from application of harmful fertilisers and agrochemicals that not only affects the crop but depletes the ozone layer.
"These CSA innovations will help boost the agric sector as we stop doing things in a conventional way," Odubote said.
He added that the adoption of CSA by local farmers could only begin with proper education and knowledge of the techniques.
"We must educate them on substitutes for the nitrogenous fertilisers that they can adopt and best seedlings they can plant to increase their productivity.
"Through this education, a lot of our farmers will start aligning to the provisions of CSA and boost food security while protecting the environment," Odubote said.
By Mercy Omoike