An environmental group, ''Let's Do It Nigeria'', said it had developed a mobile app to help track trash points and illegal dumpsite across the country.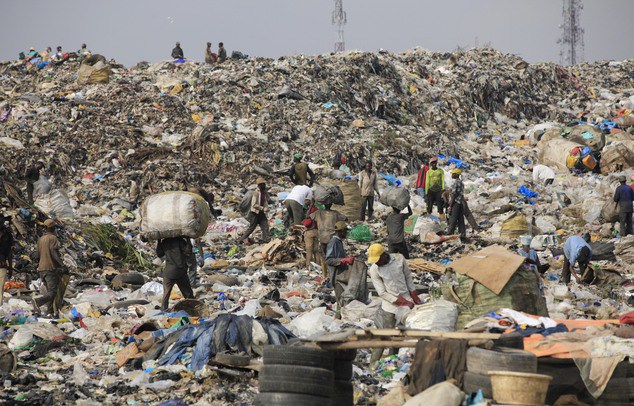 The Marketing and Public Relations Manager of the group, Gafar Olorunleke, disclosed this to the News Agency of Nigeria (NAN) in an interview on Sunday, April 1, 2018 in Lagos.
Olorunleke said the mobile app was developed as parts of efforts help the effect management of waste in the country as well realise the group's dream of a waste-free environment.
"Let's Do It Nigeria is not about cleaning up alone, we also unite organisations and stakeholders over various sectors of the economy to achieve a common goal of a waste-free environment.
"What we are trying to achieve is a waste free planet. We started this cleanup campaign from the middle of last year and we have held pilot cleanup in almost all states in Nigeria.
"Right now, we have the mobile app called the 'World Clean Up' app
''As part of our advocacy, we tell Nigerians that they can use this app to locate where there trash points around them.
''Contact us, so we can then organise stakeholders and waste organisations to go and clean them up," he said.
The environmentalist also disclosed that, as parts of the group's advocacy efforts, the group was also building up a map where illegal dumpsites could be located and necessary action taken by the regulatory bodies.
"From April to June 2018, we will embark on the mapping out campaign. We are building a map where Nigerians can log into a portal and see every point, where we have trash points in Nigeria.
''The map shows every point where we have illegal dumpsites in the country."
He stressed the need for Nigeria to embrace the opportunities inherent I n recycling waste and the benefits of ensuring a cleaner environment.
"We want to make people know that they can live in the waste free environment.''
He urge the people to see recycling as an opportunity to effectively manage waste instead of dumping refuse all around, littering everywhere with waste.
"There is an opportunity in waste management, so we are also trying to evaluate the value chain of waste management in Nigeria, from the point of household waste disposal to that of recycling.
''We want people to see the opportunity in waste management as something they can tap into.''
Olorunleke said the group's advocacy activities include a build up toward the world cleanup day scheduled for Sept.
"One of the greatest objectives is to mobilise 5 per cent of Nigerian population for the biggest civil action in the history of the world, which is the World Cleanup Day in September.
At this point of the advocacy, we do more of a build by engaging in a lot of advocacy.
"Currently, we have a volunteer base of 5,002 members all over Nigeria.
''We have also reached some download of the mobile World Cleanup App. we are also getting promises from the government to collaborate on this massive action.
By Mercy Okhiade and Florence Onuegbu