In Bodo community, Nigeria, harmful gases hover in the atmosphere enveloping the community, toxic creeks swirl and stink swamps meander along their natural courses, black crude oil floats – entrapping air thereby endangering the marine ecosystem – which harbours coral reefs and diverse species of fish. This exemplifies a typical ecological and devastating state of the Niger Delta region.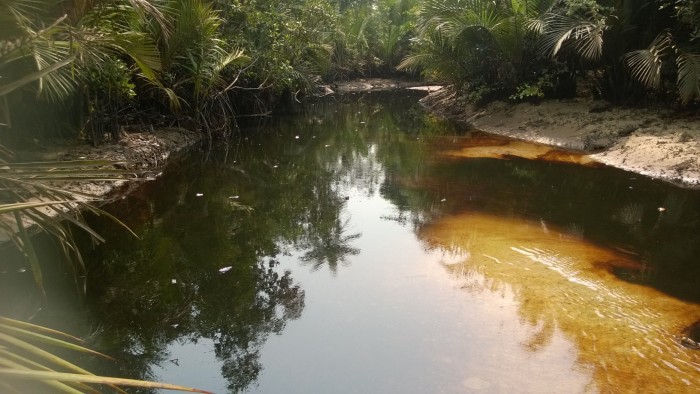 A spell of devastation for the swampy region started when Nigeria joined the ranks of oil producers in 1958. Unprecedented environmental pollution started when oil companies began operations in the oil-rich region. Gas flaring became a daily routine just as oil spillage spree remained unchecked.
Suffice it to say that billowing toxic gases, contaminated surface and underground water have become a norm in the Niger Delta – courtesy of the perpetual exploitation of crude oil. There is no need to contact a soothsayer before knowing that the inhabitants are under multifaceted environmental threats – with high probability of untoward cases of respiratory diseases, cancer, reproductive, lung damage, skin problems and even untimely deaths!
Farming and fishing, which are the predominant sources of livelihoods in the Niger Delta, are seriously threatened, as their land is contaminated – making it unfit for farming and if by chance brings forth low yield, just as their waterways are toxic – making them inhabitable for aquatic lives to survive.
The unfortunate scenario forces some of the affected inhabitants to migrate and seek havens while the less privileged, who are mired in dire straits of financing their basic needs, have nowhere to run to than to stay back.
Crude oil currently accounts for 83% of Nigeria's export earnings. In a sharp contrast and twist of fate, chronic infrastructural deficiency abounds amidst the glittering raw wealth in the region which is widely known as the goose laying the golden eggs.
Despite the trillions of Naira realised from the exploitation, the oil rich Niger Delta is impoverished and wriggles in a deplorable state – prompting curiosity and mixed feelings across the region whether the crude oil discovery is a blessing or a curse for the Niger Delta.
The Niger Delta, a fan-shape with an area of about 70,000 square kilometers in southern Nigeria, is seriously battered by oil. And it would be incontestable to regard it as one of the most polluted places on earth. This was affirmed by Amnesty International.
"On one occasion Eni took more than a year to respond [ to oil spillage]. The Niger Delta is one of the most polluted places on earth and it beggars belief that the companies responsible are still displaying this level of negligence," says Mark Dummett, Business and Human Rights Researcher at Amnesty International, in a recent report by the organisation.
Quite worrisome that nobody has claimed responsibility for the devastated vast swathes of forests and waterways which brew a defective and imbalanced ecosystem. The multinational companies operating in the oil-rich region are quick to pass the blame on theft and sabotage; while there are allegations that the multinationals are still using corroded pipes and archaic transmission system.
Mark Dummett further reveals: "Shell and Eni claim they are doing everything they can to prevent oil spills but Decoders' research suggests otherwise. They found that the companies often ignore reports of oil spills for months on end." This is a pointer to the nonchalant attitude towards gas flaring and oil spill.
Nigeria is adjudged as a major burner of fossil fuel – with speculations that Nigeria flares an estimated 75% of its proven natural gas reserves (estimated at 124 trillion cubic feet).
Oil extraction consequences extend beyond borders. The ripple effects of fossil fuel burning is felt across the globe and its continuous usage has the propensity of increasing the average global temperature rise above 2° C – making the less pollutant countries bear the brunt of the damage caused by heavy polluters.
Although, people felt the spillage is underestimated, "About 240,000 barrels of crude oil spill occurs yearly. And it is widely believed that 13 million barrels (1.5 million tons) of crude oil have been spilled since 1958 from over 7000 oil spill incidents," says Best Ordinioha and Seiyefa Brisibe in their research.
Ogoniland spanning about 1,000 sq km (386 sq mile) which its water is 1,000 times toxic than normal drinking water – requires about $1billion for the first five years of oil cleanup. The holistic cleanup spans a period of 30 years, based on UN Environment Programme (UNEP) report. That's to reveal the tip of iceberg and extent of devastation in the Niger Delta.
In reaction to the devastation and failed compensation promises, unrest brewed when the Niger Delta denizens became agitated by resorting to pipeline vandalism, militancy, and kidnapping. But, such activities seem to have subsided.
Massive pressure is on the Federal Government to focus on infrastructural development of the area. While the State governments in the Niger Delta are not left out, and much is expected of them to judiciously use the 13 per cent derivation meant for providing succour to the oil- rich region.
The Way Forward
Restoration and unconditional cleanup process of the devastated Niger Delta is paramount – just as compensation of the affected inhabitants is enforced.
As part of measures to: end gas flaring by 2020, judiciously utilise the flared gases and most importantly, put an end to gas flaring – worthy to commend the Nigerian government for approving the National Gas Policy, tagged:  "Gas flare-out through gas utilisation projects", which seeks to boost energy supply and a critical lever for rural economic development in the Niger Delta – through projects with strong local engagement plans. However, this is a commendable initiative on paper but, much need to be done to fast track its actualisation.
Oil companies are accused of finding it economical to flare the natural gas and pay the old insignificant fine of N10 per 1,000 standard cubic feet of gas flared than to re-inject the gas back into the oil wells.
"Nigeria has had a policy of no flaring since 1984, but its enforcement of this policy has been weak," says Bjorn Hamso, manager of the Global Gas Flaring Reduction Partnership (GGFR)
In arresting the situation, the National Oil Spill Detection and Response Agency (NOSDRA) should expedite action in effecting $3.50 per 1,000 standard cubic feet, which is the current penalty for gas flared without compromise. And the agency should endeavor to come up with a more robust and stiffer penalty for oil spills and gas flaring.
Nigeria should hasten her side of the bargain by planting 1.6 million assorted seedlings to cover 129.3 kilometres of the shelterbelt in seven northern states – geared towards implementing the Great Green Wall project, (about 10,000 km long from Senegal in the west to Djibouti in the east and 15 km in width), which seeks to provide green shelter belts of trees and shrubs capable of absorbing some 250 million tonnes of carbon.
It is high time Nigeria diversified her economy by shifting from over dependence on oil revenue – especially now that the world is on the verge of migrating from the (non-ecofriendly) fossil fuels to (eco-friendly) renewable energy.
If action is not taken to stop and reverse the current climate trends, we shall face a world with average global temperatures several degrees higher than when we were children.
It is therefore expedient to diligently honour the 2015 Paris Climate Agreement, which seeks to limit average global temperature rise below 1.5°C – by shifting totally to 100% renewable energy towards protecting the earth and the future generations to come. And the key to achieving it is by keeping fossil fuels in the ground while embracing the clean, eco-friendly renewable energy which abounds.
By Odewale Abayomi Joseph (Civil engineer and ICFJ-United Nations Foundation Reporting Fellow on Climate and Migration; @ODEWALEAbayomi)