The Lift Humanity Foundation (LHF), an NGO, has called on all relevant stakeholders to support and intervene on those vulnerable communities, youth and women, affected by climate change and other environmental crisis across the country.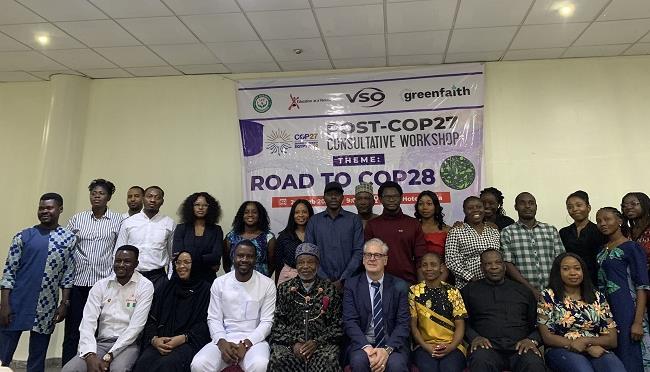 Executive Secretary of the LHF, Pius Oko, said this at a Post-COP 27 and Road to COP 28 Consultative Dialogue, on Thursday, February 2, 2023, in Abuja.
It was organised by LHF in collaboration with Voluntary Service Overseas (VSO), Education as a Vaccine (EVA), and GreenFaith.
Oko said that the collaboration of the relevant stakeholders would help to pressurise developed countries to redeem their financial commitment and other support.
He said that such intervention would aid to address environmental crises for those vulnerable communities, the youth and women, thereby assisting in promoting smart agriculture and other activities in the country.
According to him, "we want all stakeholders to come together and ensure that the voices of the vulnerable, those that have been suffering from the impact of climate change is heard.
"It is not a discussion for policy makers, it should be a decision that concern people at the grassroots, so let us come together and make sure that voices are being heard through strong advocacy.
"Yes, we strongly need more of advocacy and sensitisation, especially to those climate deniers who have refused to understand the impact of climate change in our environment.
"Climate change issues are too important to be left in the hands of deniers.
"So, we need to educate them to let them know that the climate change we are talking about is real and it is impacting us negatively."
Oko said that in 2022, floods claimed lives of Nigerians, displaced millions of people and washed away hundreds of farms and farm lands across the country.
He said that the issues would continue in frequency and magnitude, if the present trend could not be reversed to build climate resilience.
He urged stakeholders to strongly put more strategies that would support in the implementation of programmes and decisions taken in 2022 at COP 27, held in Sharm el-Sheikh, Egypt.
He, however, called on Nigerians to intensify more action, especially at the community levels, to ensure that the environmental crisis was tackled effectively.
The Chief of Mission to Nigeria, International Organisation for Migration (IOM), Laurent de Boeck, said that climate change, environmental degradation and disaster were reshaping contemporary human mobility patterns around the world.
Boeck said that extensive array of international agreements and frameworks attest to urgency of addressing climate change and human mobility together.
He said that Nigerians should integrate climate risks into humanitarian response plans and programming to ensure response to climate-related displacement.
The Executive Director, Education as a Vaccine (EVA), Toyin Chukwudozie, said that the organisation had a discussion with women and girls in various states affected by climate change and other environmental impact.
"After the discussion, we recommended that there should be a guarantee equitable participation of women and girls in all their diversity in climate change policy process, programming and decision making at all levels.
"There is a need to be a gender balance and inclusion in selection of decision making bodies such as the Senate Committee on Ecology and Climate Change and other relevant committees."
Chukwudozie said that women and girls should be involved in conversations about the climate change issues to enable them make solution on how it can be tackled.
By Vivian Emoni