The Minister of State for Environment, Alhaji Ibrahim Jibril, has called for the collaboration between government and private sector to develop domestic market for "Made in Nigeria" clean cookstoves.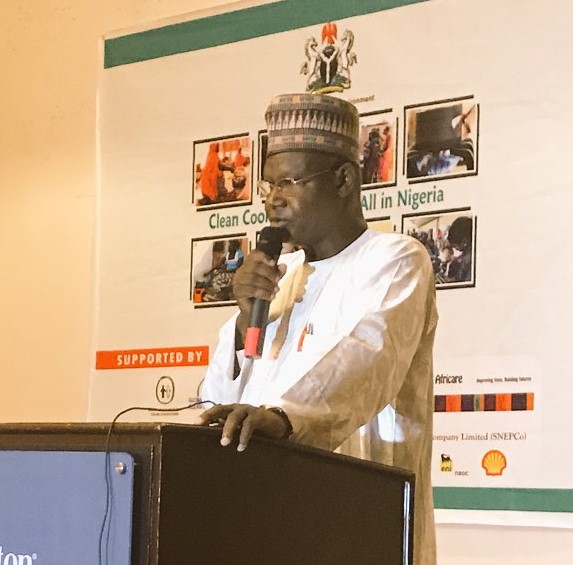 Jibril made the call on Tuesday, November 28, 2017 at the 2017 Nigeria Clean Cooking Forum in Abuja, the Federal Capital City.
The News Agency of Nigeria (NAN) reports that the theme of the forum is "Clean Cooking Energy for All in Nigeria: Scaling up Domestic Production.''
The minister, who said domestic market for clean cooking solutions must be developed, underscored the need for government and private sector to work together in stimulating the market for "Made in Nigeria" clean cookstoves.
According to him, clean cooking is a priority area in energy access that is central in achieving the goals of Nigeria's Nationally Determined Contributions (NDCs), which aims to reduce carbon emissions.
"It also aims to reduce the emission of green house gas to below 2''Celsus pre-industrial time and the Sustainable Energy for All initiative in Nigeria.
"Clean cooking energy for all is not only possible but a right for our citizens,'' he said.
Dr Bukola Saraki, President of the Senate, stressed the need to step up the activities and actions aimed at ensuring the increased usage of clean energy by households in the country.
Saraki, who was represented by Sen. Abu Ibrahim, a member of Senate Committee on Environment, said it was enormous for the nation's forest to bear when the country consumes more than 500 million kilograms of firewood daily.
He said nearly 65,000 people die every year in Nigeria due to household air pollution while over four million people die globally annually.
According to him, more than half of these victims are children and women.
The senate president, who stressed the need to increase the usage of clean cooking stoves by households, said the stoves would save their lives and help to create jobs for people in the country.
By Deji Abdulwahab