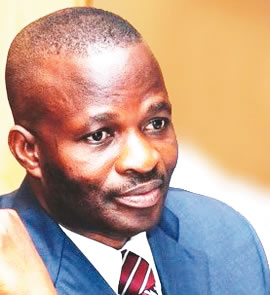 An interesting twist came into the impeachment saga against the deputy governor of Enugu State, Sunday Onyebuchi as he slumped before the impeachment panel today.
Onyebuchi, while testifying before the impeachment panel which is probing allegations of misconduct against him by the State House of Assembly allegedly on the orders of the governor, Sullivan Chime, had to be rushed out of the court hall shortly before 12 noon.
With his wife, Nneka Onyebuchi and children present at the hearing, Onyebuchi had to be rushed out by family members and aides for urgent medical attention.
Having arrived the court in company of his lawyers this morning, the deputy governor, who alleged offences include raring poultry in his official quarters, began his testimony at 9.30am collapsed a little over 2 hours after.
One of his lawyers, Peter Eze, said the deputy governor slumped five minutes after the chief of staff, Ifeoma Nwobodo and the state's attorney general, Anthony Ani (SAN) came into the court.
The deputy governor's collapse led to the suspension of proceedings tentatively till later in the day.