The Nigerian Institution of Water Engineers (NIWE) has called on the Federal Government and relevant stakeholders to take actions on conservation of ground water resources.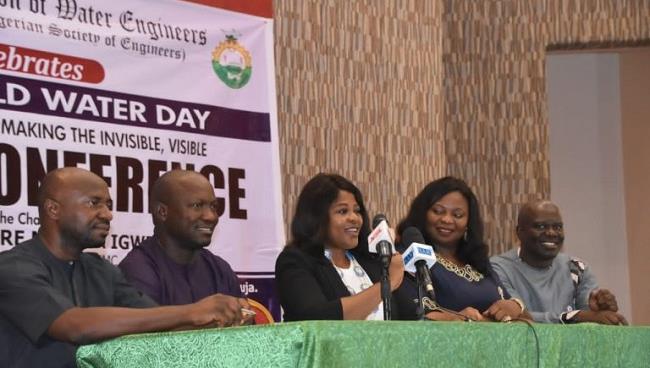 National Chairman, NIWE, Mrs Chinyere Igwegbe, made the call at a news conference to commemorate the 2022 World Water Day (WWD) on Monday, March 21, 2022, in Abuja.
The theme for the 2022 celebration is: "Groundwater-making the invisible visible" with emphasis on environmental, social and economic value of water.
Igwegbe said this year's theme on groundwater draws attention to the hidden water resource that had always been critically important but not fully recognised in sustainable development policy making.
"Groundwater- Making the invisible visible" this year's campaign will explain groundwater's vital role in water and sanitation systems, agriculture, industry, ecosystems and climate change.
"Groundwater may be out of sight, but its impact is visible everywhere.
"It provides almost half of all drinking water worldwide, about 40 percent of water for irrigation, and about 1/3 of water required by industry.
"Sustains ecosystems, maintains river base flows, and prevents land subsidence and sea water intrusion. This vast potential of groundwater and the need to manage its sustainability can no longer be overlooked.
"It should be rescued from mismanagement and vulnerability to pollution and depletion. Therefore, groundwater must be thoroughly explored, analysed, monitored and regulated'', she said.
According to Igwegbe, there were many threats militating against the groundwater exploration such as impact of climate change, increase in population, and high demand by industry and agriculture.
"In preventing water scarcity, a lot of research needs to be carried out with possible solution through technological innovations and nature-based solutions.
"The responsibility, therefore, lies on the government, relevant institutions, private partners, and individuals in taking actions towards conservation of this basic resource, especially the indiscriminate drilling of boreholes,'' Igwegbe said.
She, therefore, called on government to seriously monitor the drilling of boreholes by individuals across the country, because such activity was affecting the planet.
The national chairman said a UN report stated that WWD raises awareness with 2.2 billion people living without access to safe water and globally 1.98 billion people who lacked basic water services at their health care facility.
"The achievement of Sustainable Development Goal 6 on Water and Sanitation for all by 2030 is of paramount focus on this day.
"This year's theme groundwater draws attention to the hidden water resource that had always been critically important but not fully recognized in sustainable development policy making.
"The overarching message of this campaign is, exploring and sustainably using groundwater as central to survival and adapting to climate change and meeting the needs of the growing population.''
Speaking on what the institution of water engineers was doing to help alleviate water challenges in the country, Igwegbe said the institution had undertaken many initiatives that had far reaching impacts.
"It is important we reflect on ways in providing solution to water challenges in the nation, beginning from our own local communities.
"NIWE will continue to engage relevant authorities, particularly the Federal Ministry of Water Resources, the Federal Capital Territory Water Board, State Water Boards and other water organisations in providing solutions to water challenges in the country.
"Here in FCT, we have had a cause to check water pipe leakages and report to the FCT Water Board for their attention and necessary action.
"This programme is called Water Watch and all our chapters in the various states are encouraged to do same. We are having advocacy on incessant drilling of borehole without monitoring.
"We donated 10,000 litres to Durumi IDP Open defecation campaign and propose open defecation outreach and programmes in FCT now being extended to states.
World Water Day celebration started since 1993 involving all nations on March 22 annually, except in countries where war was prevalent.
It is about focusing on the importance of water and upholding the sustainable management of freshwater resources.
By Perpetua Onuegbu