Vice President Yemi Osinbajo says energy poverty has to be tackled headlong for African countries to attain middle-income status and an inclusive prosperity for its people.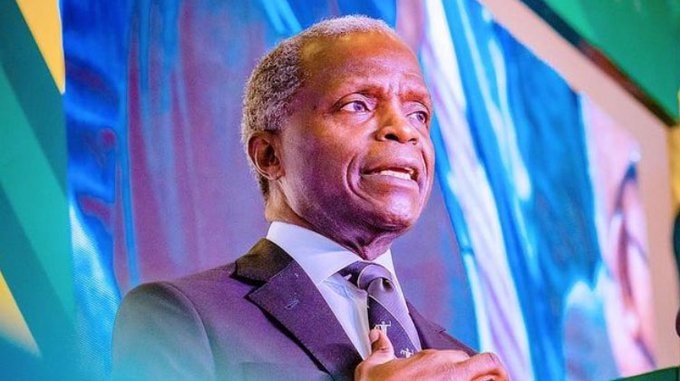 Osinbajo's spokesman, Laolu Akande, in a statement on Tuesday, April 25, 2023, in Abuja, said the vice president delivered a Special Public Lecture at the University of Pennsylvania (UPENN) in Philadelphia, U.S.
The vice president spoke on the title "Energy Transition in Africa."
Osinbajo outlined specific pathways that would lead to climate-positive economic growth on the continent and at the same time lead to the realisation of the global net-zero emissions targets.
"Africa's endowments, renewable energy, natural resources and a young workforce, present a compelling set of circumstances for several pathways to climate-positive growth.
"Low emissions consumption and production, the point being that Africa can, instead of going the carbon-intensive path to providing energy, goods and services for its own needs, take full advantage of green technologies and practices.
"There is the distinct advantage that Africa can actually pursue a green course of growth without worrying about costly legacy infrastructure."
The vice president said that second pathway had to do with the recognition that global zero carbon ambitions could be realised without intentional carbon removal technologies and practices.
He said that Africa could ramp up her own potential to do it at scale through a combination of planned land use and ecosystem management, and investment in emerging engineered removal technologies.
"The third pathway is that, with its abundant reserves of renewable energy and raw materials, Africa can become a hugely competitive green manufacturing and energy hub for the world that could also accelerate the greening of global industry.
"Thus, the paradox of an energy-poor continent becoming the green industrial powerhouse of the world is easily resolvable and must be."
The vice president proposed that the developed world change its perception of Africa.
He charged that the continent should not be seen merely as a victim but as a solution in the climate change conversations and the attainment of the global net zero targets by 2050-2060.
On energy poverty,  Osinbajo argued that it could only be resolved if there was a significant investment in renewable energy.
"And that can only happen if we create the energy intense anchor demand that makes the investment in additional renewable energy bankable.
"Therefore, it is not which comes first – renewable energy generation capacity or industrial deployment, both must be developed concurrently."
Osinbajo also spoke on Africa's dependence on its oil and gas resources.
He said that the use of gas as a transition fuel would not significantly derail the commitment to carbon-negative growth.
"Nigeria's Energy Transition Plan attempts to chart an energy transition pathway which has as its bedrock, the development of renewable energy, specifically solar.
"The plan is to develop 250 gigawatts of solar capacity by 2060.
"The plan outlines our decarbonisation strategies in the areas of power, oil and gas transportation; it also militates against medium to long-term job losses in an industry that has dominated the economy for decades.
"It recommends the role of gas as a transition fuel, to balance large influxes of solar power on the grid, its use as a cheaper, and relatively clean option for base load power for industry, as we watch the cost of solar batteries plunge.
"There are also practical ways in which gas, especially propane, will bridge the gap before the full use of renewables is commercially practical.
"To illustrate the point practically, recently some discussions have been taking place about the decommissioning of industrial scale diesel and petrol generators used at base stations of telecommunication companies in Nigeria," he said.
Previous speakers who had featured at the UPENN Special Lecture series hosted by the U.S. Ivy League University's Centre for Africana Studies, include Nobel Laureate, Prof. Wole Soyinka, and the President of Botswana, Mr Mokgweetsi Masisi.
Earlier in her welcome remarks, Prof. Beth Winkelstein, Interim Provost, UPENN, said that the planet was facing an existential struggle against climate change for the earth.
"And indeed for us to last, we must join with our fellow nations around the world in this struggle.
"Like many countries, including the United States, Nigeria is challenged by competing and sometimes conflicting interests and its development prospects are complex.
"Nigeria holds amongst the continent's largest proven oil reserves and faces a potentially perilous future of climate-induced sea level rise and drought.
"In short, global progress in the battle against climate change needs Nigeria's partnership and participation," she said.
On his part, Prof. Tukufu Zuberi of the Africana Centre, spoke about the relationship between the university and Nigeria.
He thanked the vice president for honouring the institution's invitation, noting that the lecture series was part of its efforts in correcting the negative perceptions about Africa.
"Africa in many ways, has not been treated fairly in conversations, often this treatment is simply a result of not understanding Africa," he said.
After the lecture, Wale Adebanwi,  Professor of Africana Studies at the University of Pennsylvania, led an interactive session with the vice president.
Earlier on arrival, Osinbajo had met with the leadership of the university and was later conducted around the Penn Museum by Prof. Tukufu Zuberi.
By Chijioke Okoronkwo